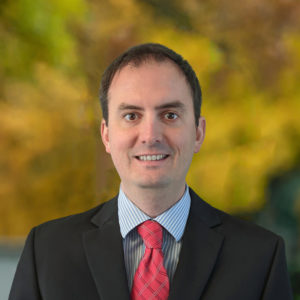 WBRC is pleased to welcome Senior Electrical Engineer Andrew Straub, P.E. to the team. He brings nearly fifteen years of project experience serving clients in the education, healthcare, and commercial sectors.
As a licensed professional electrical engineer, Andy will be responsible for all aspects of electrical building systems evaluation and design. This includes code compliance, life cycle cost analysis, contract document drawings, systems specifications, RFIs, submittals, and construction administration.
"We are very excited to have Andy Straub join our team," says Stephanie Laplant, PE, WBRC Principal and Electrical Engineering Department Manager. "Andy is an experienced electrical systems evaluator, designer, and problem solver. He has an impressive track record of creating value for his team and his clients and of learning skills where he sees a gap and a need. Andy is able to establish rapport quickly and has a great sense of humor," she says. "I know our team and clients will appreciate his skills and enjoy working with him."
Andy Straub earned a BSEE from Union College in Schenectady, NY. Before joining WBRC, he was a Project Engineer at M/E Engineering, P.C., headquartered in Rochester, NY. There he managed projects involving electrical systems and lighting design, as well as energy engineering and computational fluid dynamics. His diverse project experience includes completing over 1M SF of energy improvement analysis for Cornell University.
Andy will serve on WBRC project teams from the firm's Maine, Maryland, and Michigan offices.
---