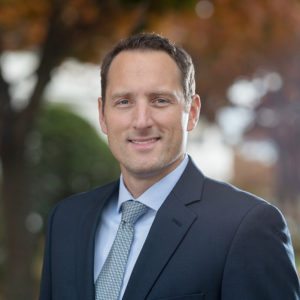 BANGOR, ME, May 15, 2017 – WBRC Architects Engineers is pleased to announce that civil engineer Paul A. Monyok, P.E. has joined its owner/management team as a Principal. Paul was unanimously elected to WBRC's Board of Directors in recognition of his high-quality design capabilities, responsive service to clients, and positive relationships with clients, colleagues, and the community.
"We are honored that Paul Monyok is now a part of WBRC's ownership team," says CEO Doug Whitney. "He is both a talented engineer and a quiet leader who uses a mix of creativity and tenacity to get the job done. All of us on the Board of Directors are looking forward having Paul on the team as WBRC's newest Principal." Paul Monyok joins ten other principals, all A/E professionals practicing architecture, engineering, and landscape architecture from WBRC's three offices in Maine and Florida.
As firm principal and voting member of WBRC's board, Paul Monyok will have the authority to sign contracts and proposals on behalf of the firm. As Principal in Charge of a project, he will provide general oversight, assist in maintaining client relationships, lead key project meetings and presentations, support the project team on critical items, and provide consultation and problem resolution.
Over the past decade, Paul has performed a diverse range of work at WBRC, including lead roles in the site/civil engineering for Joint Force Headquarters in Augusta, ME; UCU Headquarters in Orono, ME; The Avenue student apartment complex in Orono, ME; Northern Maine Readiness Center in Presque Isle, and many other projects. He will continue to work primarily out of the firm's Bangor, Maine offices.
Paul Monyok brings 15 years of experience to his position as WBRC's newest principal. His expertise includes site planning and design, roadway design, master permitting, site selection, stormwater management, utility infrastructure design, planning board and public presentation, multi-discipline coordination/oversight, computer aided drawings, detailing, estimating guidance and review, project specifications, and construction administration.
Paul graduated from Penn State University with a Bachelor of Science in Civil Engineering. He is a LEED Certified Professional, and has MaineDOT's LPA certification. He is a member of the Maine Society of Professional Engineers and the American Society of Civil Engineers. Paul also volunteers as the assistant swim coach for the Bangor Y Barracudas.