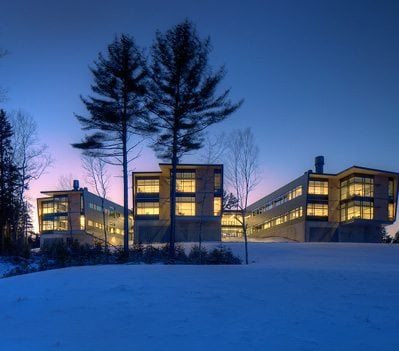 LEWISTON, ME – WBRC, in association with Perkins and Will, was recognized for architectural excellence at Monday night's 2014 AIA Maine's Design Awards ceremony in Lewiston, receiving a Merit Award for its work at Bigelow Laboratory for Ocean Sciences. Maine-based WBRC received the award on behalf of the entire project team, which included Boston design architect Perkins and Will, contractor Consigli Construction, and owner Bigelow Laboratory for Ocean Sciences.
Bigelow Laboratory for Ocean Sciences is a 60,000 SF, LEED Platinum science and education campus on the East Boothbay waterfront. The campus consists of three interconnected science and education buildings, along with a shorefront facility and dock. The $31.8-million Phase 1 campus project was made possible by a combination of state and federal grants, private financing, and private donations.
The Awards' jury noted how clearly the design accommodates the research mandate of the laboratory. "We noted noted how each piece of this project is sculptural and is conceptually connected, while still reading as separate. We appreciated the difficulty of siting a large building like this on a sensitive site. This massive building benefits from being composed in three parts, opening up views toward the sea. The form of the wings, the horizontal strip windows, and the large roof overhangs enhance the dynamism of this building that seems to sail toward the sea, the subject of its occupants' research."
A key feature of the campus is the building's unique daylighting design. The solar orientation of the three research wings, combined with open courtyards between each wing, helps to maximize natural light in the building, creating a comfortable and energy-efficient work environment. Year-round energy recovery and other high-efficiency equipment provide an outstanding 54% energy cost savings over a conventional design.
Bigelow Laboratory for Ocean Sciences campus is the first scientific research laboratory to achieve LEED Platinum status in Maine, and has won several awards in addition to the AIA Maine Merit Award since its completion. These include: 2014 Laboratory of the Year, Honorable Mention, R&D Magazine; Grand Honor Award Winner 2013, Build New England Awards Program, AGC of Massachusetts; and 2013 Sustainable Design Award and 2013 Design Excellence Citation from Boston Society of Architects.
"The design of this facility is a testament to the power of collaboration," says Doug Whitney, president of WBRC. "The project team needed to create spaces tailored to the laboratory's specialized research processes, and it also needed to be an exciting, collaborative space that would attract world-class talent. This facility achieved those goals."
Graham Shimmield, executive director of the Bigelow Laboratory for Ocean Sciences, says the facility has exceeded expectations. "The space is highly functional, energy-efficient, and provides for a fantastic integrated work environment with state-of-the-art facilities," Shimmield says. "The design team also took full advantage of the laboratory's location, providing inspiring water views for our ocean researchers."
Biennially, AIA Maine sponsors a juried review of Maine architecture to recognize the important and diverse work of Maine architects. The jurors are nationally recognized peers who, after reviewing and critiquing the entries, select outstanding projects for recognition. The program has provided AIA Maine with the records of approximately 500 juried projects. This archive has become a fundamental record of the evolution of contemporary architecture in Maine.
---
About AIA Maine
The American Institute of Architects, Maine Chapter (AIA Maine) promotes the highest standards for the design of Maine's built environment through public advocacy, volunteerism, educational programs, outreach events, and design awards competitions. Its mission is to support architects and architecture through leadership, advocacy, fellowship, and design excellence. AIA Maine members, over 200 strong and representing every region of the state, practice in firms ranging from one to over 100 persons.  For more information, visit www.aiamaine.org.
About Bigelow Laboratory for Ocean Sciences
Bigelow Laboratory was founded in 1974 by the late Dr. Charles S. Yentsch and his wife Dr. Clarice Yentsch. It is internationally renowned as an independent, non-profit center for global ocean research, ocean science education, and enterprise. Recognized as a leader in Maine's emerging innovation economy, the laboratory's research ranges from microbial oceanography to the large-scale ocean processes that drive global environmental conditions. For more information, visit www.bigelow.org.
About Perkins and Will
Perkins and Will brings its passion for 'designing for science' together with the knowledge they've gained planning and designing major science, education and healthcare buildings for institutional, governmental and commercial clients across the country and overseas. To each project they bring a unique understanding of their client's objectives and an appreciation of how to utilize a structured design process to energize the client organization. This ensures the creation of high-performance buildings that enable productive and sustainable research and education communities within them. For more information please visit www.perkinswill.com.