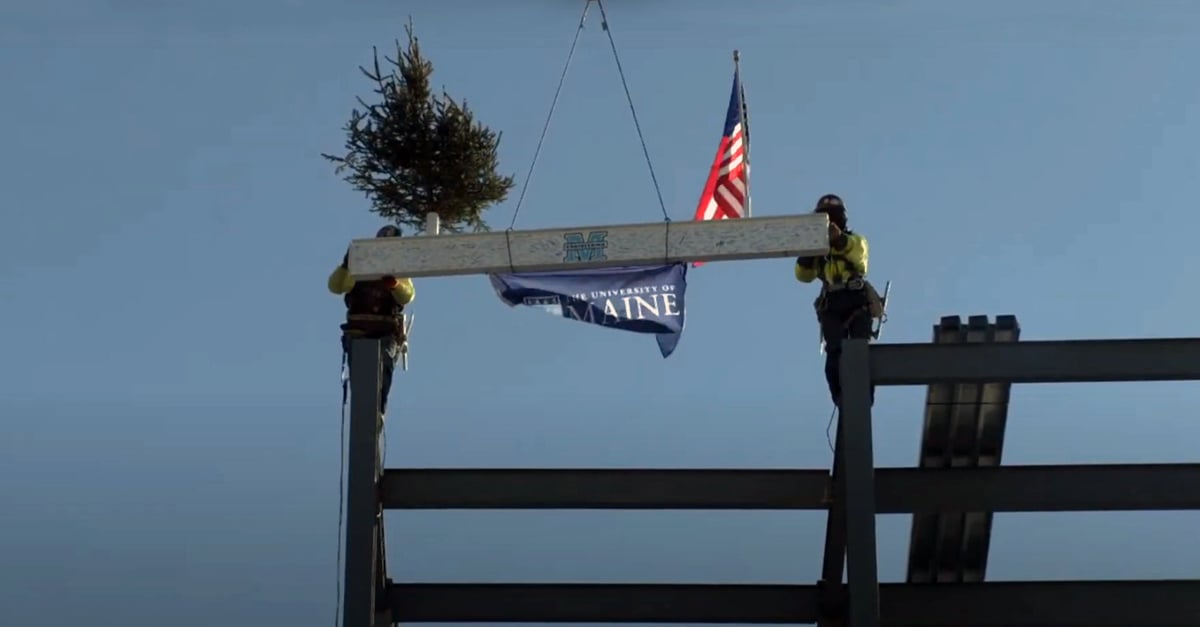 Every major building project has important milestones. Today, the University of Maine celebrated the Topping Off Ceremony of Ferland Engineering Education & Design Center (EEDC). This construction milestone (also called a Topping Out or Beam Raising Ceremony) is when the final structural beam is placed on a building.  
Ferland EEDC, a 108,000 SF, $78M state-of-the-art educational center, was designed by WBRC and Ellenzweig, and is being built by Consigli. Construction began in May 2020 and is slated for completion in August 2022.  
Topping off ceremonies, a longstanding tradition in the construction industry, are typically live, large-group events. COVID restrictions spurred the University of Maine to create a live-streamed version of the celebration. Hosted by College of Engineering Dean Dana Humphrey, this virtual Topping Off Ceremony was streamed live on YouTube on Friday, February 12, 2021 at 1 pm. It is available for long-term viewing at umainefoundation.org.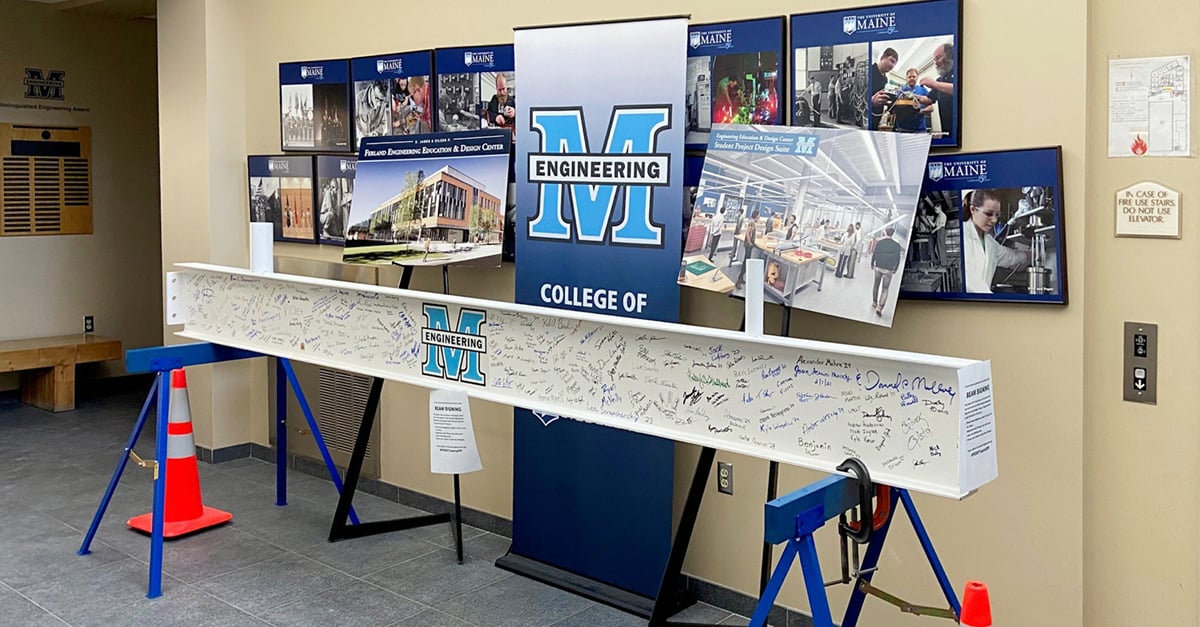 Prior to the structural beam's raising, it was signed by students, faculty, administrators, project team members, donors, as well as state and local VIPs. Stakeholders who could not come to campus to sign the beam mailed in their congratulations or submitted them online. These signatures and messages were printed on archival paper and placed inside a time capsule that was welded to the beam.  
The time capsule also included a Crosby Clip, invented by 1876 UMaine mechanical engineering graduate Oliver Crosby, a native of Dexter, Maine. The Crosby Clip remains an essential tool in the steel construction industry. The steel beam was also adorned with a Norway Spruce, a symbol of a successful build and blessings on future occupants, along with a U.S flag and UMaine banner.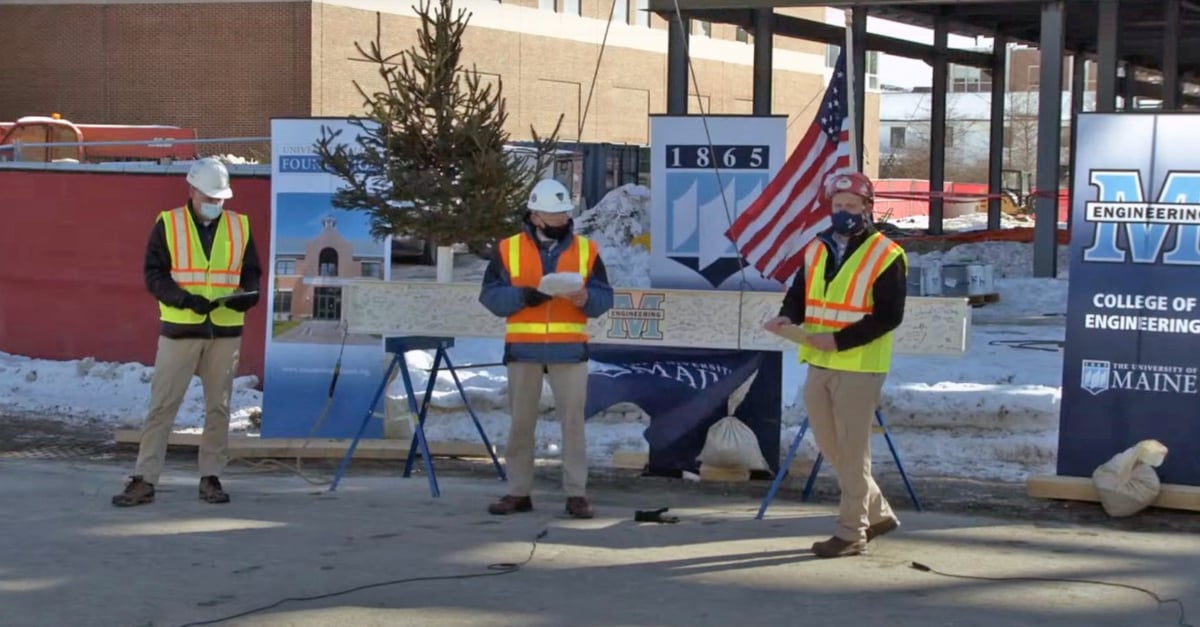 Several project champions participated in the ceremony. Live presenters included Dean Dana Humphrey; UMaine Foundation President Jeffrey Mills; Ray Bolduc, PE, '90, of WBRC Architects Engineers, and Matt Tonello, PE, '94, of Consigli Construction. The virtual event featured live and video messages from University of Maine President Joan Ferrini-Mundy as well as a video message from University of Maine System Chancellor Dannel Malloy. It also included an interview with UMaine Board of Visitors Member Beth Sturtevant, '82, retired president of CCB, Inc. The event also showed a time-lapse of Consigli's construction efforts to date.  
As the beam was raised, Ray Bolduc and Matt Tonello noted interesting project design and construction statistics. A 24 x 36 poster highlighting these statistics can be downloaded here: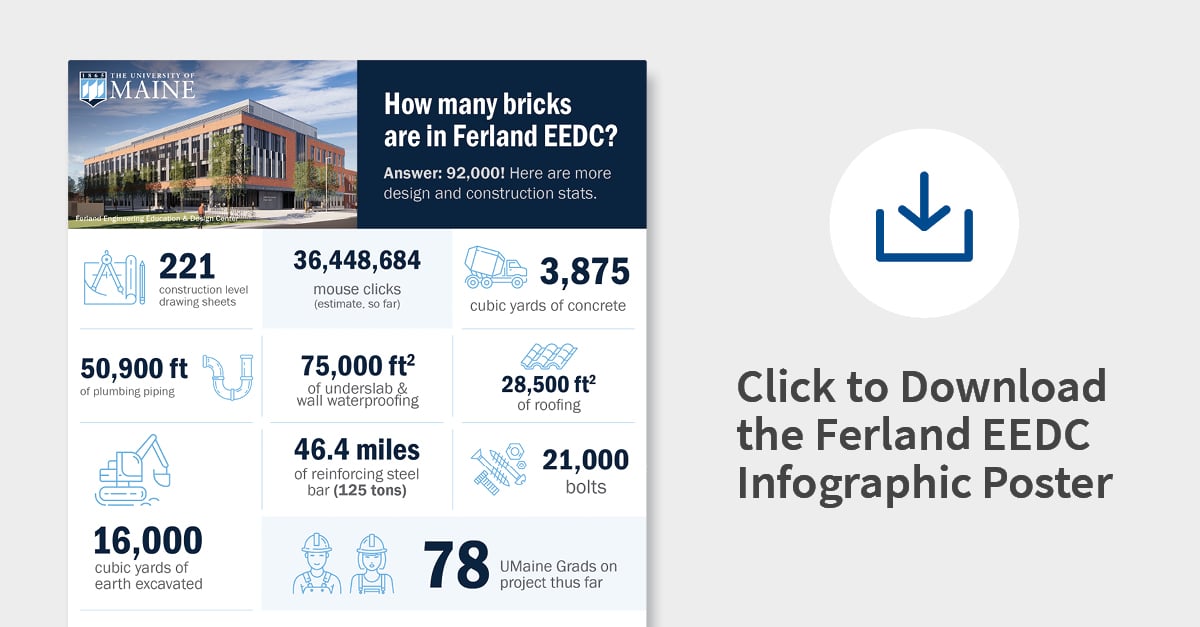 COVID restrictions have required creative thinking to successfully advance the Ferland EEDC project. This includes leveraging virtual meetings and events. Ferland Engineering Education & Design Center's Groundbreaking Ceremony, for example, was celebrated virtually via live streaming in April 2020. The UMaine events team won a Bronze Award for the virtual groundbreaking ceremony from CASE, the Council on the Advancement and Support of Education, for its successful "pivot" during the COVID pandemic.