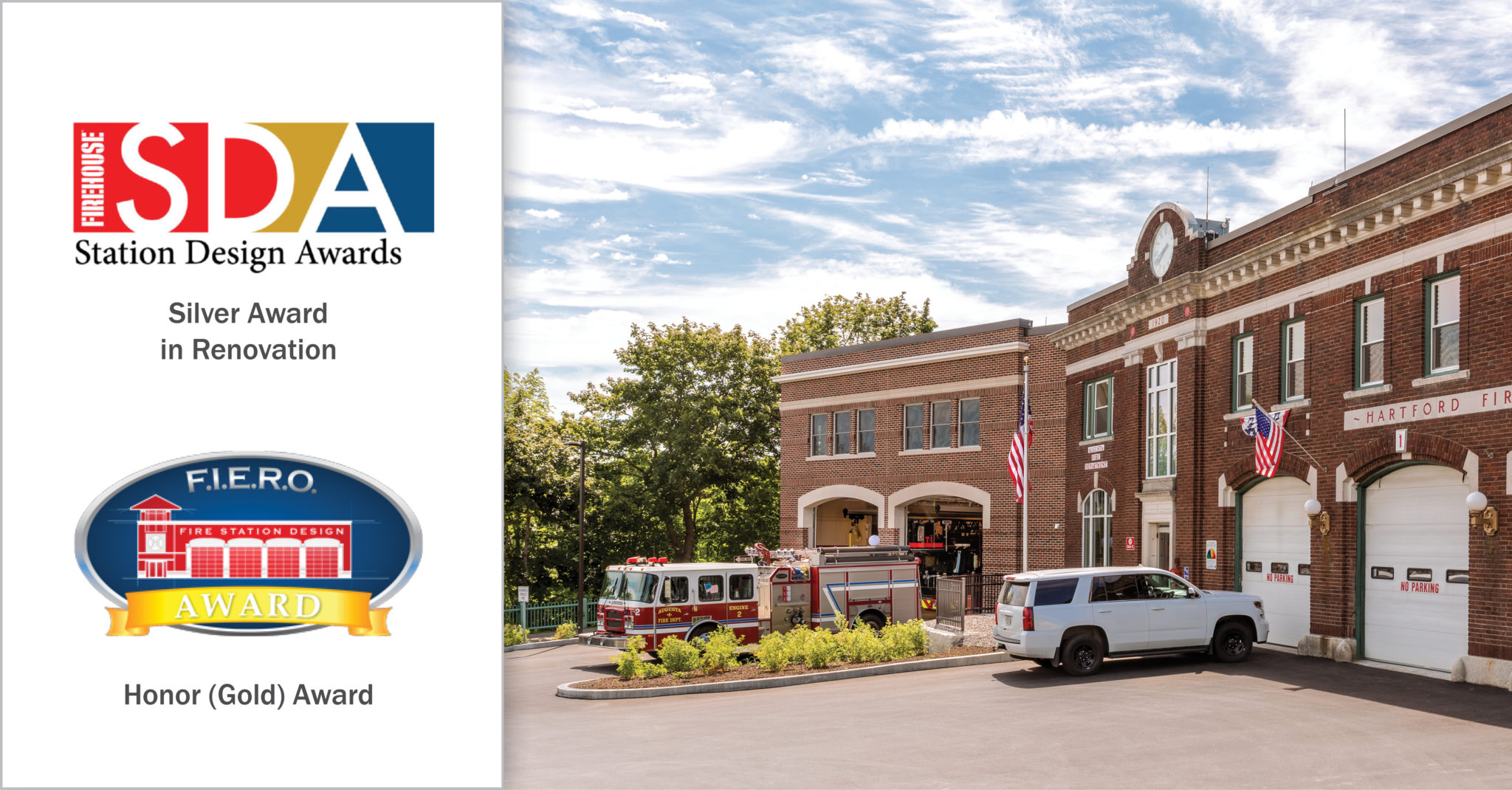 Hartford Fire Station in Augusta, Maine has earned both an Honor Award (Gold) at the F.I.E.R.O. Fire Station Design Awards and a Silver Award in the Renovation category at the Firehouse Station Design Awards. The F.I.E.R.O (Fire Industry Education and Resource Organization) awards program was held in conjunction with the group's annual Fire Station Symposium. The Firehouse Station Design Awards are selected annually by Firehouse Magazine.
The Hartford Fire Station project was a 11,325 SF addition and along with a major renovation of the original 8,800 SF Classical Revival structure. The new two-story expansion provides a six-vehicle, drive-through apparatus bay with a comprehensive exhaust system and decontamination area. Above, the living quarters offers a roomy kitchen/day room, fitness room, bunk rooms, personal laundry, and dedicated storage — all isolated from, yet quickly accessible to, the new apparatus bay.
A 2008 independent response-time analysis determined Hartford Fire Station should remain where it is, close to downtown and two city bridges. In 2017, the City hired a team to renovate and expand this 1920s gem to bring it to current standards. The City selected Brewer-based Nickerson & O'Day Constructors to lead the design-build team. WBRC provided architecture and engineering, in collaboration with national fire station expert Bob Mitchell of Mitchell Associates Architects. Becker (now Thornton-Tomasetti) provided structural engineering. Hartford Fire Station Chief Roger Audette brought invaluable leadership to the project.
The renovation of the 1920 portion of the building was threatened by the cost of foundation reinforcements required to meet essential facility standards for an existing fire station. The team reimagined the design and put all Category IV critical uses into the new addition, technically a separate building, allowing Tier II standards on the 1920 wing of the facility. The renovated original structure still provides many important functions, including a four-door vehicle storage bay for backup equipment and the station's prized antique fire truck. Its second floor is comprised of administrative offices, training room with kitchenette, unisex restrooms, conference room, and display space for historic memorabilia. Scope of work included a complete rebuild of the vehicle bay floor, many new windows, all new MEP systems, and an emergency staircase on the exterior west wall. The entire site and parking lot were also reconfigured, adding parking and a secure back entrance.
Hartford Fire Station sits on a parcel given by George Huntington Hartford (1833-1917). Hartford was an Augusta native and owner of the Great Atlantic & Pacific Tea Company, better known as the A&P grocery store chain. He was also a fire buff, and reputedly named his company after Augusta's Great Atlantic and Pacific Fire Company. The original 1920 building was designed by Augusta architecture firm Bunker & Savage (no longer in business) as one of their first projects. At the time, both horse-drawn and gas-powered vehicles were in use. While their design provided space for horse stalls, hay, and manure, the living quarters were not sealed off from the apparatus bay's vehicle fumes. These designers could not have anticipated that fire engines would grow into the massive vehicles they are today.
The primary objective for the new facility was increased safety for Hartford Fire Station's firefighters and EMS personnel. This was achieved through a robust separation of Hot Zones and Cold Zones. The new drive-through apparatus bay was a priority concern. Aesthetically, the expansion façade refers to the original building in an understated fashion, using lighter brick and simpler trim. Inside, harmonious finishes make it difficult at times to tell whether you're on the "old" side of the building or the new. In addition to a complete first floor rebuild and new MEP systems, the 1920 building also received additional structural upgrades, insulation, many new windows, and an exterior emergency staircase on the west wall.
Watch the ribbon-cutting ceremony video →