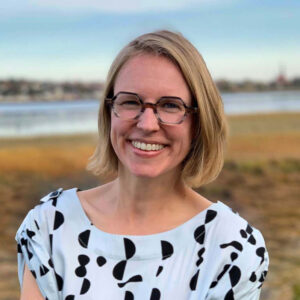 Interior Designer Ariana Melzer has joined WBRC Architects Engineers.
"Ariana Melzer is well-known in Maine for her design excellence and involvement in the A/E profession," says Doug Whitney, WBRC's CEO. "She is a highly-skilled professional with signature projects at schools, universities, and medical facilities throughout the region. We look forward to her creative and technical leadership as a member of WBRC's healthcare and education studios."
As part of CHA Architecture (formerly PDT Architects), Melzer led the interior design of projects such as Kate Furbish Elementary School in Brunswick, ME; Maine Eye Lowell Campus, Portland, ME; and Maine Center Ventures Classroom at Payson Smith Hall at USM in Portland.
She is a board member of Architalx, an organization that hosts annual talks dedicated to broadening the awareness and understanding of architecture, landscape architecture, and design. Melzer also serves on the board of directors of the Maine Interior Design Association (MIDA).
Ariana Melzer earned a Master of Arts in Interior Architecture from Suffolk University in Boston, MA. She holds a Bachelor of Arts in Journalism from the University of Wisconsin-Madison.
While Melzer will work on projects company-wide, she will focus on work in New England and work from WBRC's Portland offices.