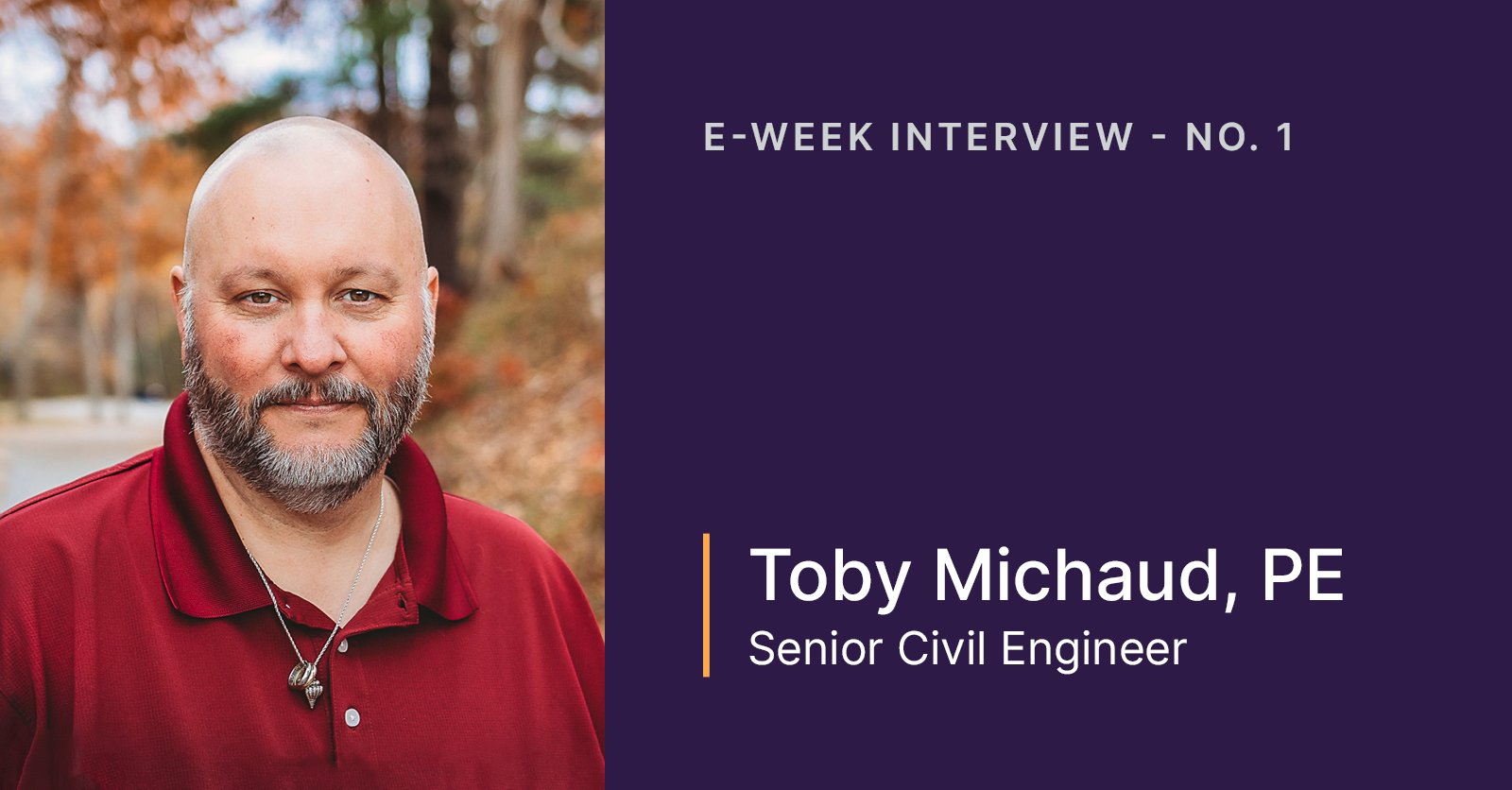 ABOUT THIS SERIES
In 1951, the National Society of Professional Engineers initiated Engineer's Week to highlight the important role engineers play in our society. It's been celebrated every year since. E-Week events and publicity also focus on attracting young people to the profession.
In honor of E-Week, we've asked some of WBRC's newer engineers and engineers-to-be about their chosen careers.
---
Toby Michaud, PE – Senior Civil Engineer
Toby Michaud is a relatively new member of our team, but not to the profession. He brings nearly 20 years of experience and positive relationships to WBRC. While Toby focuses on civil engineering at the firm, he is also trained and licensed in mechanical engineering.
---
Why did you become an engineer? What attracted you to this profession?
I went to a presentation on what my local paper mill engineers did for work. It was fascinating to see the paper making process and to listen to what those engineers did every day. This presentation sparked my interest in engineering.
Did you have a mentor? If so, what did you learn from him or her?
Yes. Don Becker was a terrific mentor. He taught me site grading, road design, stormwater management, but more importantly he taught me why we designed things the way we do. It is easy to let a computer do the work, but understanding the background is vital to a successful design. I remember him always asking me why I did a design the way I did. He did this to challenge me and to make sure that I had thoroughly thought out the best solution. His mentoring had a significant impact on my current ability as an engineer.
What traits do you think are needed to be successful in your engineering discipline?
Traits of a good engineer include a person that is thoughtful, organized, and a good listener. A lot of thought goes into the design decisions that we make. Being organized is a must since we often have many different projects going on at once. Listening to the needs of our clients is important. What we do for work is take their vision and make it come to life.
When people ask you what you do all day, what do you say?
When someone asks what I do all day after I tell them I'm an engineer, I explain that engineers are problem solvers. We like the challenge of figuring out how to make things work for people. When we don't solve problems we all like to drive trains.
When you first started working in engineering, what was most surprising to you?
The amount of communication required to perform our jobs was surprising to me. Engineering is thought to be just a lot of math and science done by nerds who sit in a corner and don't talk to anyone all day. Though we do math and science (and yes I am a nerd), we are talking to coworkers, clients, jurisdictional officials, vendors, and other professionals. Being a good communicator is an important part of being an engineer.
Is there a WBRC project you are especially proud of? Why?
I am proud of the work that WBRC has done for the University of Maine. As a UMaine alum, I enjoy participating in improving what is already an amazing and beautiful campus.
What would you say to a young person who is interested in becoming an engineer but unsure if they have what it takes?
If someone doesn't know if they have what it takes to be an engineer, I would tell them that Thomas Edison explained it best: "Genius is 1% inspiration and 99% perspiration." It took years for each of us to learn our profession and each of us has made mistakes along the way.
Is there anything else you'd like people to know?
Engineering is a challenging but rewarding profession. If you like seeing ways that you have benefited and improved society, then engineering is for you.