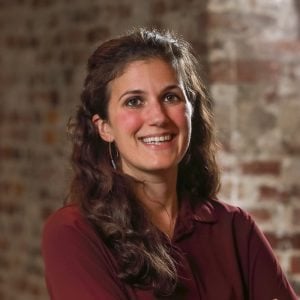 WBRC, a full-service architecture and engineering firm with offices in Maine and Florida, announces the promotion of Architect Jocelyn Boothe to Senior Associate and Shareholder. She was invited to become a shareholder by WBRC's Board of Directors unanimously in recognition of her leadership, innovative solutions, and exemplary service to clients.
Jocelyn Boothe, AIA, NCARB, is a Senior Architect and Project Manager who joined WBRC in 2015, bringing with her global healthcare design and project management experience. "Jocelyn is a rare combination of a talented designer, skilled technician, and gifted organizer," says Doug Whitney, WBRC's CEO. "She has distinguished herself with the quality of her design solutions and her ability to orchestrate complex projects. All of us on the board of directors are very pleased to welcome her as a shareholder and look forward to her continued leadership."
Jocelyn has been part of many of the firm's most forward-thinking recent projects. These include Aura, an award-winning performing arts and event center in downtown Portland, Maine; VA Togus Medical Center Specialty Care Addition in Augusta; Cape Integrative Health and Townhouses, a mixed-use development in Cape Elizabeth; the 1st place concept design for Portland's Bramhall Square; and VA Providence Mental Health Building in Providence, Rhode Island. She has worked on VA projects in five states, as well as recent projects for the University of Southern Maine, The Jackson Laboratory, and Cary Medical Center.
Jocelyn Boothe has a Master of Architecture degree from Washington University in St. Louis, located in St. Louis, Missouri. She earned a B.A. in French from Skidmore College. She is a member of the Maine chapter of AIA and the National Council of Architectural Registration Boards. She is also an associate member of Maine Healthcare Engineers' Society, New Hampshire Healthcare Engineers' Society, Maine Hospital Association, and New Hampshire Hospital Association.