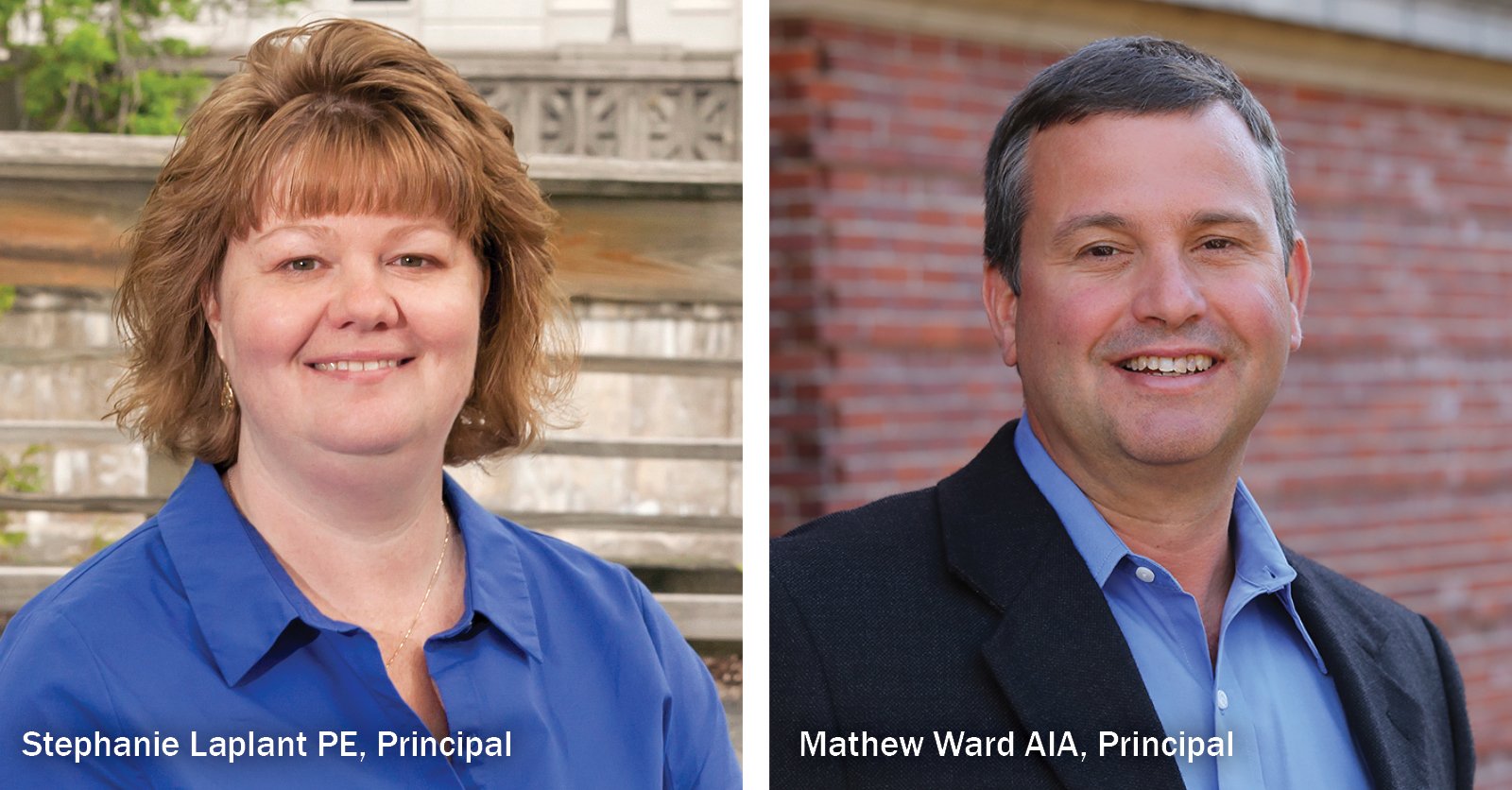 WBRC is pleased to announce that Electrical Engineer Stephanie Laplant, PE and Architect Mathew Ward, AIA have been unanimously elected to WBRC's Board of Directors and are now Principal Shareholders of the Corporation.
"All of us on the executive team are very pleased that Stephanie Laplant and Mat Ward have joined the board as principal owners," says WBRC CEO Doug Whitney, AIA. "Mat and Stephanie are proven collaborators and people of high integrity. They are the kind of professionals you need to lead projects and mentor staff, especially in these uncertain times."
Stephanie Laplant is a Senior Electrical Engineer and Department Manager with over 20 years of experience in lighting, power, communications, and life safety systems. Stephanie works across all four WBRC studios (Education, Healthcare, Civic, and Commercial). She specializes in environmentally conscious, energy-efficient designs and system upgrades. She has had a major role in several of Maine's high-profile sustainable projects. These include Bigelow Laboratory for Ocean Sciences (LEED Platinum), Hampden Academy (LEED Silver), Maine National Guard Joint Force Headquarters (LEED Silver), and the University of Maine's forthcoming Ferland Engineering Education and Design Center. Stephanie is also the Client Champion and Project Manager for Hannaford Supermarket projects in multiple states.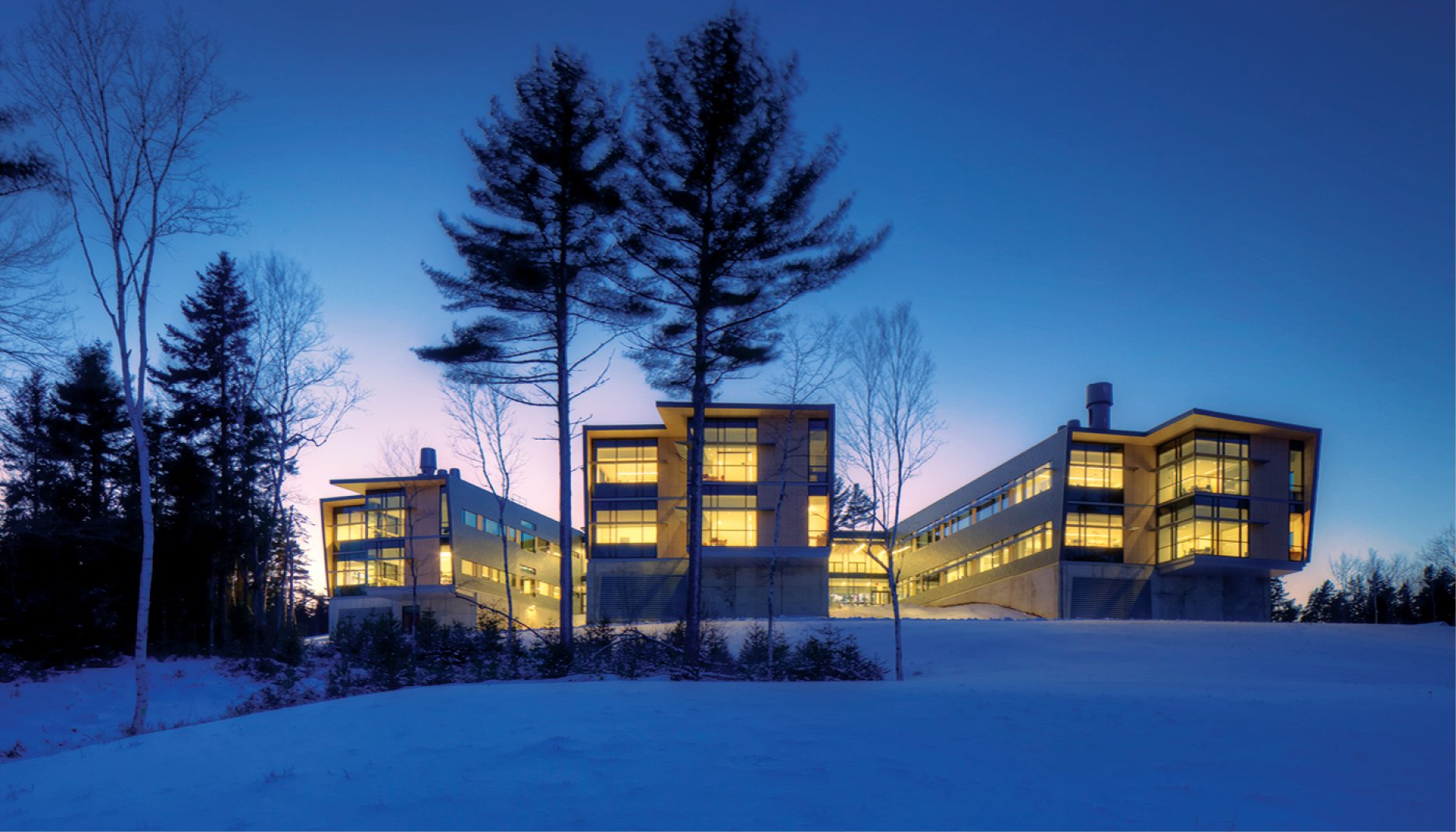 Stephanie Laplant is a graduate of the University of Maine where she earned a Bachelor of Science in Electrical Engineering. Stephanie is a Licensed Professional Engineer in Maine and six other states as well as a LEED Accredited Professional. She is a member of the National Fire Protection Association and serves on the Downtown Bangor Partnership Board of Directors.
"I've had the privilege of working with Stephanie Laplant closely over the past several years in my role as WBRC's Chief Operating and Financial Officer, and she continues to impress me," says Paul Brody, RLA. "Stephanie wears many hats at WBRC. She handles them all with skill, patience, and persistence. Whether she's laying out an engineering system, planning a complex production schedule, or collaborating with the project team, we all know we can count on her to come up with great solutions. She has the respect of everyone on our team and our clients."
Mathew Ward is a Senior Architect and Department Manager with more than two decades of experience across all four WBRC studios in project planning, design, and quality control management. He was the Project Architect for Maine National Guard Joint Force Headquarters in Augusta. Mat has also served as Project Manager for UMaine's Emera Astronomy Center (a LEED Silver project), Acadia Federal Credit Union's new branch in Bangor, and Hartford Fire Station in Augusta — winner of a Maine Preservation Honor Award, F.I.E.R.O. Gold Honor Award, and Firehouse Station Design Silver Award.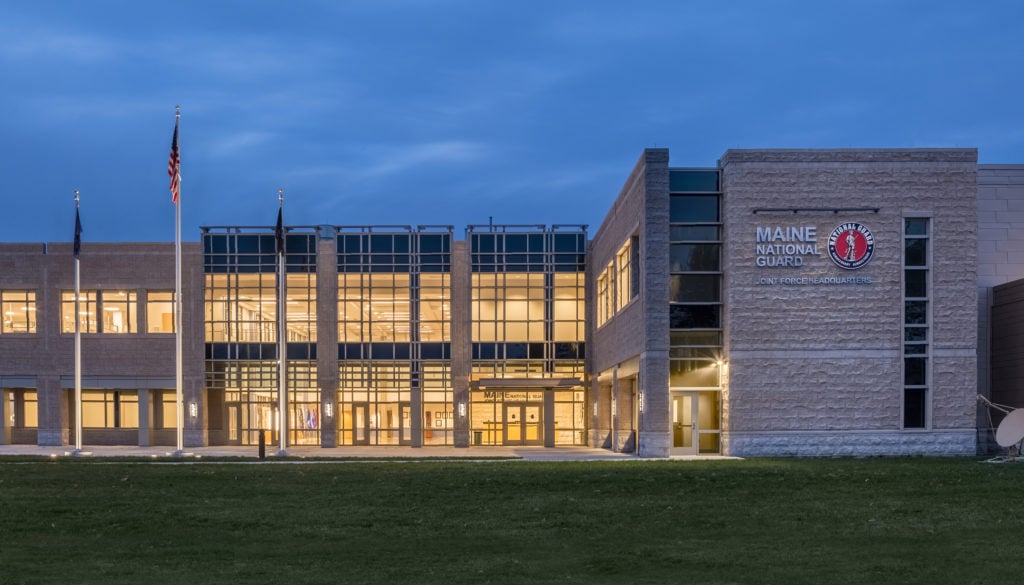 Mathew Ward studied at Wentworth Institute of Technology, earning a Bachelor of Architecture and an Associate of Science in Architectural Engineering. Mat is a Licensed Architect in Maine and three other states. He is NCARB certified and a member of the Maine chapter of AIA. Mat is the Board President for Lovejoy Health Center and serves on the Planning Board for the Town of Albion, Maine.
"Mat Ward has been a trusted, indispensable member of our team for a long time," says Rob Frank, P.E., WBRC's Chief Business Development Officer. "Mat is an excellent project manager and problem solver. He's also a caring supervisor who connects with a wide variety of people. Like a lot of Maine natives, Mat is down-to-earth and lets his work speak for itself. Those of us who work closely with him understand how much he contributes to the entire design and construction process."
Ray Bolduc, P.E., WBRC's Education Studio Director, has worked with both Mat and Stephanie for many years. "When someone becomes a fellow principal of the firm, they are becoming your business partner. That requires immense trust and confidence. I believe I speak for all of us when I say how excited we are to welcome Stephanie and Mat to WBRC's principal ownership team."