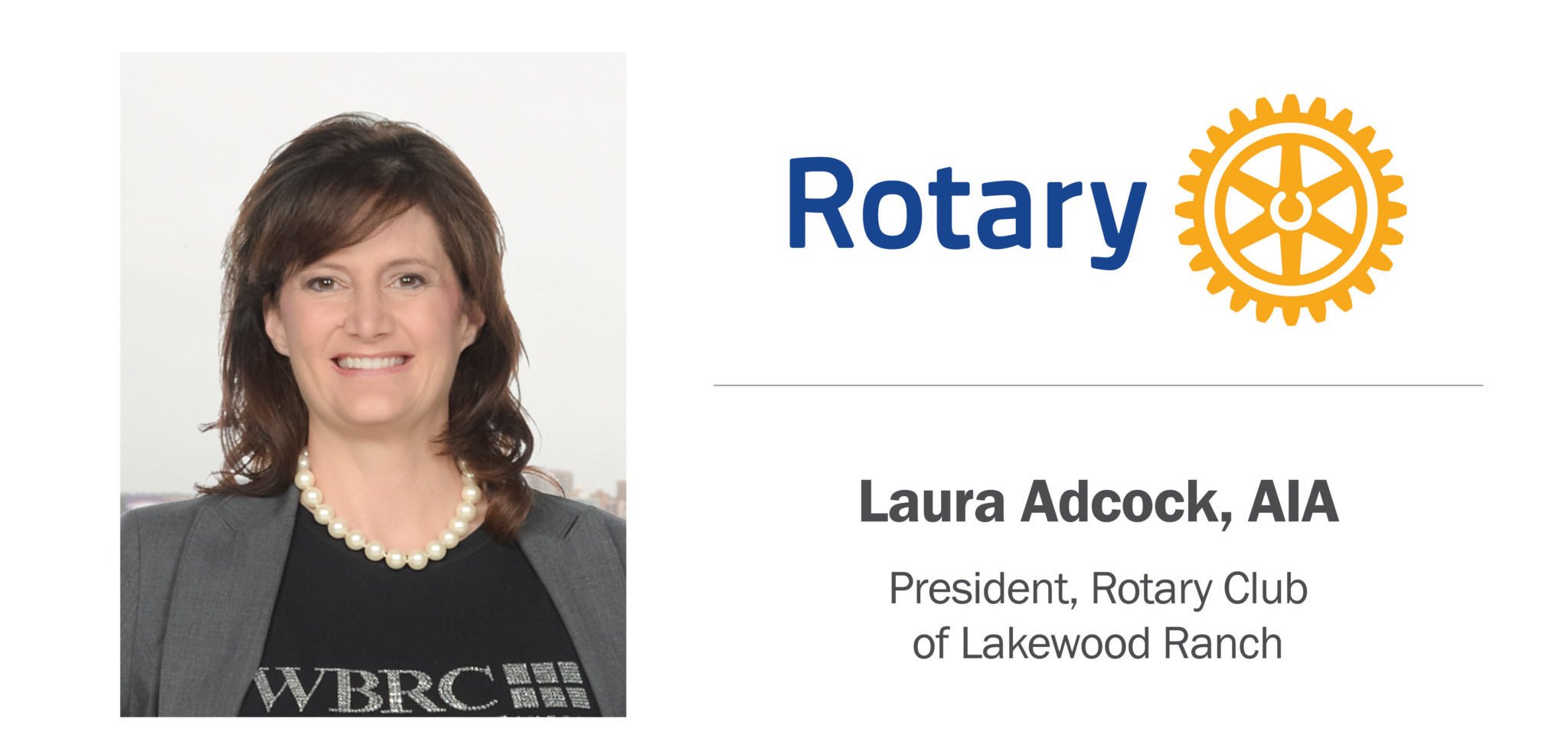 WBRC Principal Laura Adcock was inducted on June 25, 2020 as President of the Board of Rotary Club of Lakewood Ranch, Florida. Laura, an architect and Air Force Veteran, succeeds Christi Womack Villalobos as Club President.
Laura is a longtime member of Rotary Club of Lakewood Ranch and is a Paul Harris Fellow. She will lead the club's weekly meetings, which are currently being held on Zoom due to COVID-19 precautions. She will collaborate with fellow members to advance the club's many charitable fundraising and membership development initiatives.
Outgoing President Christi Womack Villalobos expressed her thanks to the many people who helped her during her past year of service, including the club's incoming president.
"I've really enjoyed working with Laura Adcock this year. Laura is compassionate, kind, and her attention to detail is incredible. I'm confident we're going to have a wonderful year ahead of us under her leadership."
Accepting the presidency, Laura Adcock spoke to the group about her life's many surprises in recent years. This included both the birth of her son and the loss of several family members. "The year 2020 has certainly been full of unexpected challenges for all of us," she says. "As we move forward in our 20th year, I'm grateful for the opportunity celebrate life with my friends in Rotary and to find creative ways to continue to serve."
Other 2020-2021 Board Officers who were inducted are:
Treasurer – Jim Wingert
Secretary – Paul Oakes
Immediate Past President – Christi Womack Villalobos
Vice President – Chris Fills
President Elect – Mark Midyett
In addition, several club members were recognized for their outstanding contributions in 2019-2020. Learn more about that recognition and other club news at lakewoodranch-rotary.com.
About Rotary Club of Lakewood Ranch
Part of Rotary International, Rotary Club of Lakewood Ranch, Florida was chartered in 2001 and currently has over 95 members. The group seeks to embody the Rotary motto "Service Above Self" and supports local, regional, and global service and humanitarian efforts.
Locally, Rotary Club of Lakewood Ranch has given more than $1.8 million area charitable organizations through its annual fundraising event Suncoast Food and Winefest. The club also supports global relief organizations such as Shelter Box USA, global clean water projects, and other efforts focused on promoting peace, fighting disease, providing clean water, caring for mothers and children, supporting education, and growing local economies.