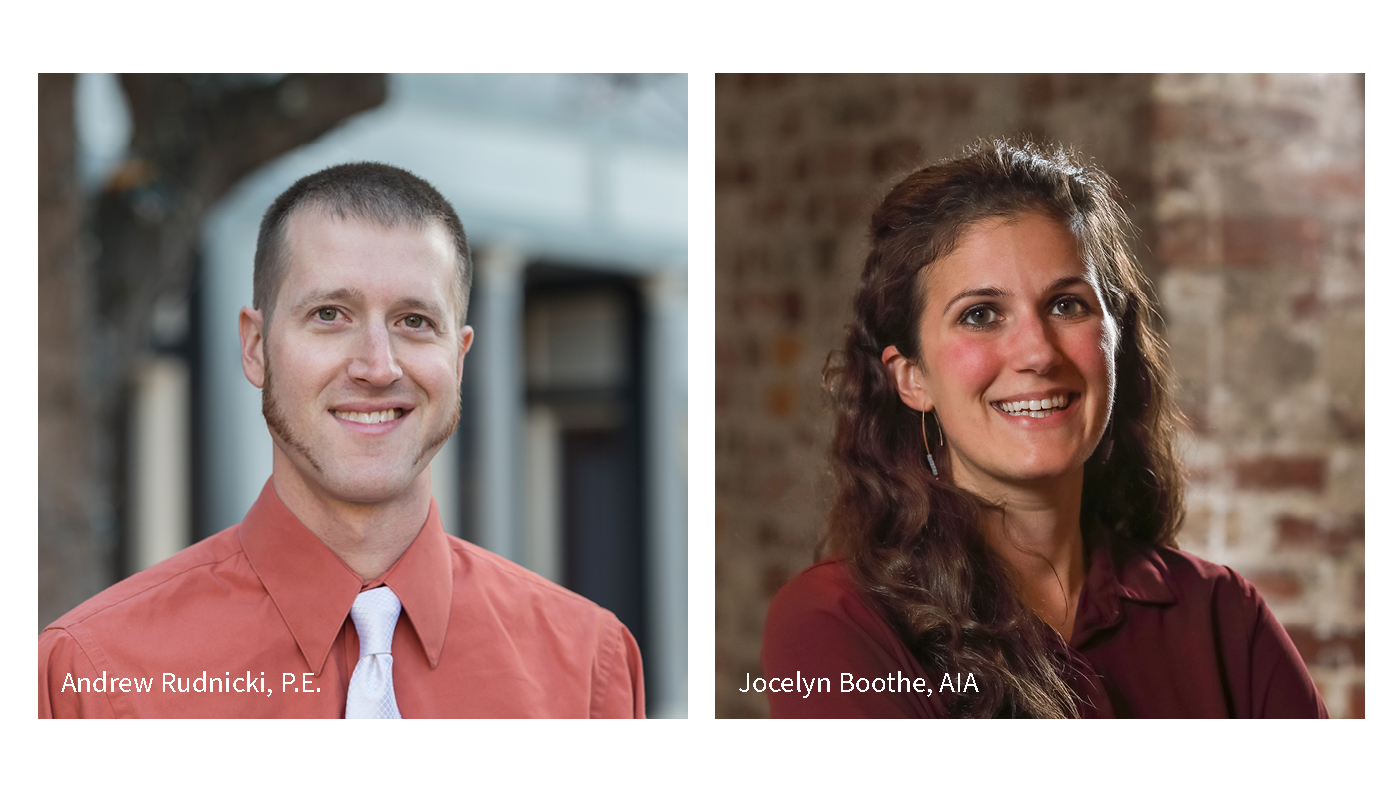 WBRC Architects Engineers has promoted two of its outstanding professionals to Firm Associate – mechanical engineer Andrew Rudnicki, P.E., and architect Jocelyn Boothe, AIA.
"Promotion to Firm Associate indicates our belief that an architect or engineer has what it takes to be part of our firm's leadership," says WBRC CEO Doug Whitney, AIA. "Andy Rudnicki and Jocelyn Boothe each exemplify the kind of professionalism and expertise our clients are looking for and our team relies on. I'm pleased to welcome them to the leadership team."
Andrew Rudnicki is a Mechanical Engineer with over a decade of experience in heating, ventilation, and air conditioning system design. He specializes in energy-modeling, load calculations, and life cycle cost analysis. Some of his major projects since joining WBRC in 2006 include Gracie Theatre at Husson University in Bangor, Hampden Academy, Joint Force Headquarters in Augusta, Northern Maine Readiness Center in Presque Isle, and two net-zero targeted buildings, North View Apartments in Dover-Foxcroft and Sebasticook River Apartments in Newport.
"Andy has the full confidence of everyone on our team and is well-respected by our clients," says Dan Monroe, Principal, Mechanical Engineering Department Manager. "I have had the pleasure of working side by side with him for over 10 years, and continue to be impressed with Andy's ability to analyze complex challenges and provide solutions."
Andrew Rudnicki graduated from the University of Maine with a Bachelor of Science in Mechanical Engineering Technology. He is a LEED Accredited Professional and a member of the Maine Indoor Air Quality Council.
Jocelyn Boothe joined WBRC in 2015, bringing global healthcare design and project management experience.
"When Jocelyn arrived at WBRC, we were anticipating great things, and she has surpassed even those expectations," says WBRC Principal and Regional Director William Pogar. "Jocelyn is a highly talented and technically-adept designer. She also displayed excellent people skills and the ability to lead some of our most complex projects."
Aura, a renovated and expanded event center in downtown Portland, is one of Jocelyn Boothe's most visible recent projects. She was also central to the design and management of Cape Integrative Health and Townhouses in Cape Elizabeth, the VA Togus Specialty Care Addition in Augusta, and the concept design for Portland's Bramhall Square.
Jocelyn Boothe earned a Master of Architecture from Washington University in St. Louis, St. Louis, Missouri, and a B.A. in French from Skidmore College. She is a LEED Green Associate, and a member of NCARB and AIA-Maine.