Toby Michaud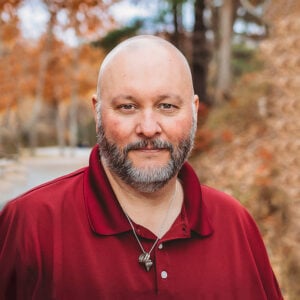 is a Licensed Professional Engineer with almost two decades of experience in multiple engineering disciplines. As a Senior Civil Engineer at WBRC, he will focus on site development, site design, stormwater management, permitting, and overseeing bidding and construction.
"We are thrilled to have someone with Toby's skills and experience join us," says Rob Frank, who leads WBRC's Civic and Commercial Studios. "Toby has an excellent reputation in this region. He knows how to keep projects moving forward, while continually looking out for each client's best interests and mentoring less-experienced staff. While he will do civil engineering at WBRC, his knowledge of mechanical systems gives him valuable additional insights. We are look forward to putting his many skills to work on a new set of challenges."
Prior to joining WBRC, Toby Michaud worked at Haley Ward (formerly CES). Signature projects during his 17-year tenure there include site design and permitting of the FW Webb Facility in Hampden, design and construction administration of the Maine Army National Guard AFRC access road reconstruction in Bangor, and the HVAC and plumbing design and construction oversite of facility structures as the Red Point Nature Preserve in Lubec and the Penobscot River Trails in Grindstone.
Toby earned a B. S. in Mechanical Engineering from the University of Maine and a B.A. in Behavioral Sciences from the University of Maine at Presque Isle. He is licensed in Maine and New Hampshire as a Civil Engineer, and in Massachusetts, Rhode Island, and Florida as a Mechanical Engineer. He is a member of ACEC's Maine Chapter.
A native of Maine, Toby and his family live in Eddington, ME. Recent volunteer work includes Brewer Youth Hockey and the MATHCOUNTS Foundation.