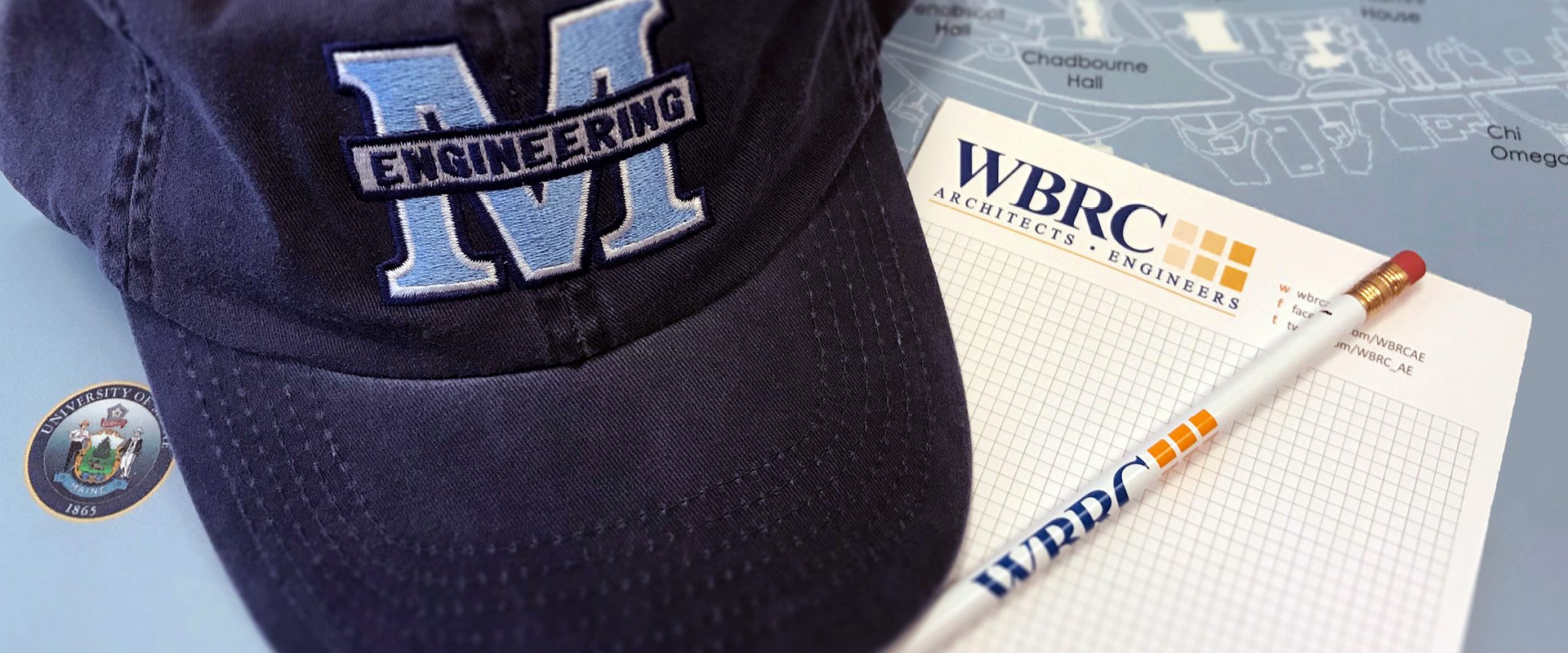 Bangor, ME and Boston, MA – WBRC Architects Engineers, in collaboration with Ellenzweig of Boston, is pleased to announce its recent selection for the design of the new Engineering Education and Design Center at the University of Maine, proposed to be upward of $80 million.
Located on UMaine's flagship campus in Orono, the forthcoming Engineering Education and Design Center (EEDC) will be a multi-use academic and laboratory building that will serve as the heart of the undergraduate engineering education at the University of Maine.
The Engineering Education and Design Center, which could to be up to 120,000 square feet, will help meet Maine's engineering workforce needs and address increased enrollment demands for UMaine's high-caliber engineering programs. This academic and laboratory building will serve as the new homes of mechanical engineering and biomedical engineering. A hallmark of the center will be hands-on, team-based laboratories for senior capstone design projects, where students from multiple engineering disciplines will collaborate. Classrooms of various sizes will accommodate group learning and well as some distance learning opportunities for select engineering courses originating at UMaine and shared with other University of Maine System campuses.
The WBRC/Ellenzweig project team, which includes five other Maine firms and five out-of-state specialty consultants, was one of 18 that responded to the request for qualifications for design services this fall. Becker Structural Engineers of Portland is also part of the winning design team.
WBRC has been designing buildings on the UMaine campus since 1903, including several projects for the College of Engineering. Ellenzweig focuses on teaching and research laboratories for engineering, science, life sciences and health sciences.
Quotes from the WBRC/Ellenzweig Team:
WBRC CEO | Doug Whitney, AIA
"While every project award is an honor, the EEDC project is especially meaningful to us at WBRC. Our firm's service to the University of Maine dates back to 1903, when our founder C. Parker Crowell (Class of 1898), designed the first engineering building on the Orono campus. Today, over three-quarters of WBRC's engineers are graduates of UMaine's College of Engineering, including five members of the EEDC project team. To add to this legacy with this signature campus resource is truly thrilling."
WBRC Education Studio Director, Principal-in-Charge | Ray Bolduc, P.E.
"Our team knew we needed to bring in a planning and design expert with deep expertise in STEM design, and sought out Ellenzweig as our project partner. Ellenzweig has worked for 90+ university clients and has been a part of some of the country's most celebrated engineering buildings. As we got to know their team and heard the accolades of previous project partners, it was clear Ellenzweig was the right firm to maximize the potential of this project."
Ellenzweig Team Leader and Senior Planner | Michael Lauber, FAIA
"The University of Maine College of Engineering has earned an excellent reputation for the quality of its programs, and this new facility will usher in a whole new level of success. All of us at Ellenzweig are honored to join WBRC in leading the design of this game-changing campus resource. The vision and enthusiasm behind this project are palpable, and we look forward to rolling up our sleeves and diving in."
WBRC Project Architect | Kris Kowal, AIA
"The University of Maine envisions an Engineering Education and Design Center that is hands-on and collaborative, and we will use that same engaged approach during the design process. Just as pedagogies are changing from the 'sage on the stage' to the 'guide by your side,' architects and engineers must become a true partner with educational clients in order to shape the built environment around their unique culture and vision. We look forward to continuing our long-term partnership with the University of Maine on this important project."
WBRC Business Development Director | Rob Frank, P.E
"As both a UMaine engineering alum and a member of the Alumni Board, I applaud the University's tenacious leadership in advancing this project, exemplified by College of Engineering Dean Dana Humphrey. Dean Humphrey and UMaine President Susan Hunter spent the past several years educating and advocating for this project, and future generations of engineers and the communities they serve will benefit immeasurably."
About University of Maine College of Engineering:
The University of Maine College of Engineering's mission is to produce the graduates and new technologies needed to move Maine's economy forward, in support of the UMaine's role as Maine's land grant university. The College of Engineering at the University of Maine is Maine's only educational institution to offer 11 ABET accredited engineering and engineering technology degree programs. Its reputation is known worldwide and its research contributes significantly to scientific discoveries and economic development in Maine and beyond. www.umaine.edu
About WBRC:
WBRC Architects Engineers was founded in 1902 in Bangor, Maine. Today, WBRC employs 50+ professionals in Maine and Florida, serving clients in the education, healthcare, civic and commercial sectors. WBRC has led many of Maine's signature projects, including UMaine's Offshore Wind Laboratory in Orono, Bigelow Laboratory for Ocean Sciences in East Boothbay, Aura Event Center in Portland, and the forthcoming Joint Force Headquarters in Augusta. www.wbrcae.com
About Ellenzweig:
Ellenzweig, founded in 1965, is an architectural planning and design firm focused on research and educational projects for science, engineering, and life/health sciences. Ellenzweig has earned a national reputation for excellence and expertise in technically challenging projects. The firm of 50+ serves clients across the country from a single office in Boston, often with local architect-partners. Ellenzweig's recent engineering center projects include Votey Hall of Engineering at the University of Vermont, Engineering Hall at Rowan University, and the new STEM Building at the University of Mississippi. www.ellenzweig.com
---
Read the University of Maine's announcement regarding the Engineering Education & Design Center here.