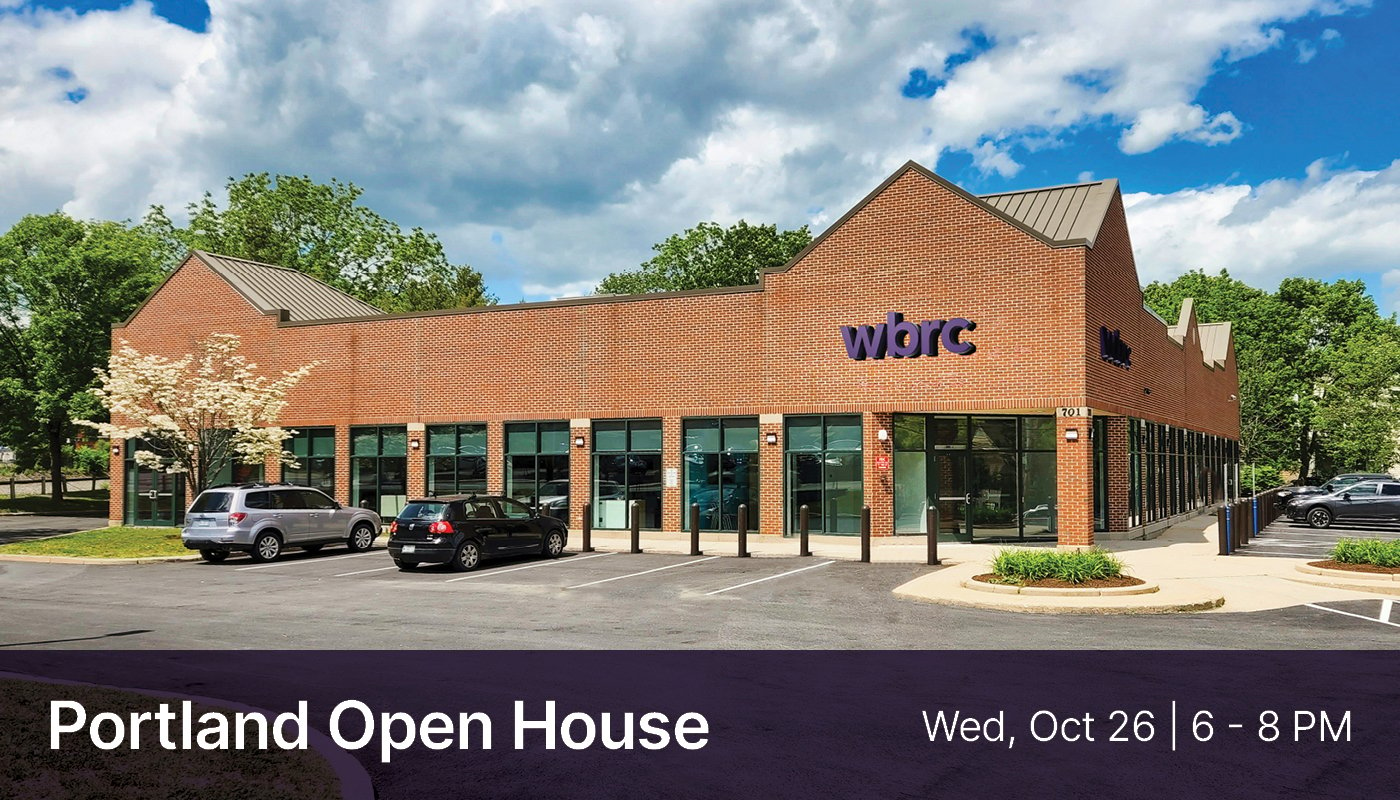 WBRC Inc. is celebrating the Grand Opening of its new Portland offices on 701 Forest Avenue with a Ribbon Cutting and Open House on Wednesday, October 26 from 6 to 8 pm. The Ribbon Cutting will take place at 6:30 pm and will be hosted by the Portland Regional Chamber of Commerce. The event will feature an international assortment of appetizers from several neighborhood food purveyors.
WBRC transformed a former Rite Aid store in the Woodfords Corner neighborhood into its new offices this summer. Their 701 Forest Avenue offices feature an open office plan designed to support teamwork.
WBRC's Portland team includes architects, engineers, interior designers, and a landscape architect. They collaborate daily across multiple offices, often on large, complex projects. The new light-filled office space includes tech-friendly conference and meeting rooms, sit/stand workstations, and a long work counter to facilitate collaboration and accommodate large projects. Another important benefit to their new location is onsite parking, a true luxury in Portland.
WBRC Principals Richard Borrelli, Mike Johanning, and Jocelyn Boothe had been looking for new offices for several months when they learned of this property's availability.
"We had outgrown our space on Danforth Street and were looking for options," Borrelli says. "About 30 sites were in the running. We preferred this site because other places were disjointed and here we're all in one space." Another benefit, besides onsite parking, is the opportunity for exterior signage. "We're excited to have our name in lights from two angles on this highly-visible thoroughfare."
WBRC Inc. has been in the A/E design business in Maine for 120 years, with offices in Portland for 16 years. WBRC works in 26 states and employs nearly 60 professionals; 20 of those staffers are in Portland.
WBRC Principal Will Pogar had been serving as Portland's Regional Director for nearly a decade. With his retirement in September 2022, Richard Borrelli has taken over his duties as Regional Director. Will Pogar will be honored at the October 26 celebration.
WBRC's Portland branch opened in 2006, when WBRC was awarded the contract for the design of Ocean Avenue Elementary School. That school is just down the street from its new offices. Major projects in and around Portland include South Portland Middle School, Aura, and the Cross Insurance Arena Renovation/Expansion.
WBRC's Healthcare Studio is also focused in Portland, enabling the team to service clients statewide and across New England. WBRC's healthcare team has recently completed major design projects for Northern Light Health and VA Healthcare campuses in Maine, New Hampshire, Massachusetts, and Rhode Island.
About WBRC Inc.
At WBRC, we help clients design and optimize their facilities and campuses. Headquartered in Maine, WBRC employs 60 people in multiple states. The firm's full-service professional team includes licensed architects, engineers, interior designers, and landscape architects. Now in our 120th year, we remain committed to providing Design that Improves Lives, serving clients in the healthcare, education, civic, and commercial sectors.