WBRC has promoted four outstanding team members to Senior Associate. They are Adam Comstock, Mauren Freire, Tyler Johnson, and Andrew Rudnicki.
Senior Associates are part of WBRC's current Associate group and are typically licensed or certified professionals who have been an Associate for at least three years.
"WBRC's new Senior Associates are all true professionals, people our clients trust and our team relies on," says WBRC CEO Doug Whitney. "Adam, Mauren, Tyler, and Andy were asked to join our leadership team as Senior Associates because they earn our confidence and respect every day. We look forward to their continued leadership in the years to come."
Adam Comstock, AIA, promoted to WBRC Senior Associate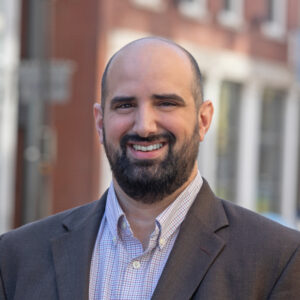 Adam Comstock is a Maine Licensed Architect with over a decade of design and project management experience. Adam focuses on healthcare at WBRC and is a go-to resource for technically and programmatically complex projects. He is adept at coordinating large project teams and has a fully-developed technical skillset in both Revit and AutoCAD.
Adam earned a Bachelor of Science in Architecture from Wentworth Institute of Technology and a Master of Architecture from Boston Architectural College. He is a member of AIA-Maine and Vermont Healthcare Engineers Society (VHES) and is NCARB Certified.
Adam is currently managing multi-faceted projects at VA Medical Centers in multiple states. Other projects where Adam has had a leading design and project management role include Northern Light Blue Hill Replacement Hospital, Northern Light Maine Coast Hospital Renovations, Dorothea Dix Geropsychiatric Center, Northern Light AR Gould Hospital SPD Renovation, and several renovations at MaineGeneral Thayer Campus in Waterville and Cary Medical Center in Caribou.
Mauren Freire, AIA, promoted to WBRC Senior Associate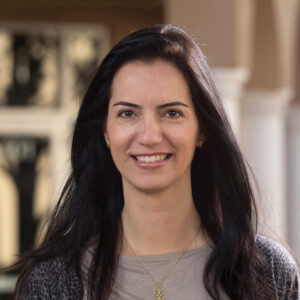 Mauren Freire is an Architect with over 25 years of experience. A native of Brazil, Mauren worked in architecture firms in São Paulo and Rio de Janeiro, Brazil, before launching her own architecture and interior design company there. Prior to coming to the United States, she lived for short periods in Switzerland, Australia, and Japan, enjoying the opportunity to experience other cultures and architectural styles.
Mauren works out of WBRC's Lakewood Ranch, FL branch, where she focuses on senior living, healthcare, and commercial projects. A Florida and Maine Licensed Architect, Mauren's recent clients include Plymouth Harbor on Sarasota Bay, Community Foundation of Sarasota, Remy's on Main, VA Healthcare, and Tidewell Hospice, as well as assisted living and memory care centers in Florida, Georgia, Louisiana, and Texas.
Mauren is a graduate of FAAP in São Paulo, Brazil where she earned a Bachelor Degree in Architecture and Urbanism. She is a member of the American Institute of Architects (AIA) and is certified by the National Council of Architectural Registration Boards (NCARB).
Tyler Johnson, AIA, promoted to WBRC Senior Associate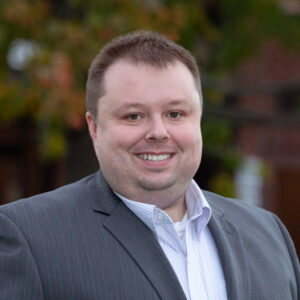 Tyler Johnson began his career as an Architectural Designer at WBRC. He is a Maine Licensed Architect (also licensed in Vermont, New Hampshire, and Massachusetts) and Project Manager with over 15 years of design and project management experience in educational, commercial, and healthcare and projects.
A Portland, Maine native, Tyler earned a Bachelor of Architecture Engineering Technology (BAET) from Wentworth Institute of Technology. He a LEED Accredited Professional and is NCARB certified. Tyler is a Board Member of AIA-Maine and a member of the Portland Society for Architecture. He is also a Board Member and Mentor for ACE Mentor Program of Maine. ACE is part of a national program consisting of architects, engineers, and contractors who volunteer to mentor high school students interested in learning more about careers in the A/E/C industry.
Tyler focuses primarily on education and commercial projects at WBRC. Recent Maine projects include L.L.Bean Flagship Store in Freeport, South Portland Middle School, Oceanside High School Addition and Renovation in Rockland, Ferland Engineering Education and Design Center at the University of Maine, Belfast Area High School, as well as work across the country for private retail clients.
Andrew Rudnicki, PE, promoted to WBRC Senior Associate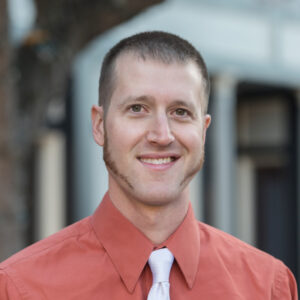 Andrew Rudnicki is a Mechanical Engineer with over 15 years of experience in heating, ventilation, air conditioning and plumbing systems design. Andy specializes in energy modeling, load calculations, and life cycle cost analysis. His expert mechanical and plumbing designs creatively balance energy efficiency and client well-being and comfort.
Some of his recent major projects at WBRC include Ferland Engineering Education and Design Center at the University of Maine; Northern Light Blue Hill Hospital, Blue Hill; Northern Light CA Dean Hospital, Greenville; Northern Maine Readiness Center, Presque Isle; Maine National Guard Joint Force Headquarters; Augusta, and two Near-Net-Zero buildings, North View Apartments in Dover-Foxcroft and Sebasticook River Apartments in Newport.
Andy graduated from the University of Maine with a Bachelor of Science in Mechanical Engineering Technology. He is a Licensed Professional Engineer in Maine, Massachusetts, and Vermont, a LEED Accredited Professional, and is the lead for WBRC's commitment to the AIA 2030 Challenge.
About WBRC Inc.
Founded in 1902, WBRC is a 60-person A/E firm dedicated to improving lives through design. Our team focuses on solutions for healthcare, education, civic, and commercial projects.