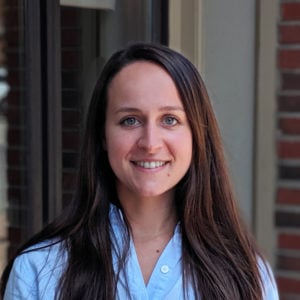 Stefanie Wason, AIA, has joined WBRC as a licensed Architect. Stefanie worked previously at Apicella + Bunton Architects in New Haven, CT, where she served on a variety of projects at Yale University. She also served as Lead Architectural Designer and Project Manager at Lubrano Ciavarra Architects in Brooklyn, NY, where her projects included performing arts studios and a children's learning center. Stefanie also has experience in historic preservation, hospitality, housing design, and large-scale master planning.
Stefanie Wason earned her Bachelor of Architecture at Syracuse University School of Architecture. She also completed architectural studies in Florence, Italy. She brings a range of skills and interests to her work at WBRC, from sketching, hand drawing, and model making to 3D design and project team coordination.
"We are excited that Stefanie has joined WBRC," says Doug Whitney, CEO. "She brings a wealth of knowledge and experience and is a proven collaborator and communicator. It's an honor to have Stefanie on board," he says. "It's also great to have a fellow Syracuse grad join our team."
Like Stefanie, Doug Whitney and fellow WBRC principal Kris Kowal are also graduates of Syracuse University's highly-regarded School of Architecture.
While Stefanie will work primarily from the firm's Bangor office, she will also serve on project teams based at WBRC's Portland, Maine and Lakewood Ranch, Florida locations. She and her family reside in Old Town, Maine.