---
Located just off Mt. Hope Avenue in Bangor alongside the Penjajawoc Stream, Evergreen Woods Office Park is conveniently located near Hogan Road shopping and dining district. It is also close to two major hospitals and Bangor's downtown.
When we first walked this land 35+ years ago, it was a beautiful undeveloped 20+ acre forest of pine trees.
Developer Steve Crichton challenged us to create an office park comprised of multi-unit buildings that preserved as much of the natural environment as we could. This including maximizing the number of trees. We chose the classic New England cape-style residence as the inspirational image for the design of the buildings. The site design felt more like a meandering upscale residential neighborhood than an office park.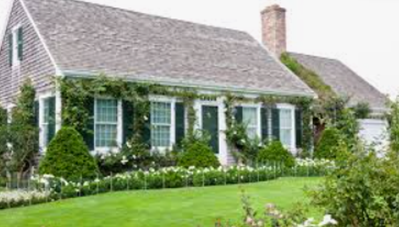 The typical building designs were still all hand drawn in those days. These started out very much as residentially-scale floor plans, as one-story buildings with a daylight basement. The buildings had real wood clapboard siding and Maine cedar shingle roofing with brick chimneys.
Growth over time
As time went on and as the office market demanded, subsequent buildings began to get bigger and more robust. We went from wood framed floors to steel framed floors. We chose concrete floor on metal decks for better sound separation. As the buildings continued to get larger, we kept the one-story prototype with a daylighted lower level. By the time we completed the design for Building #5, they had become 15,000 SF per floor with the appearance of two stories from the lower level side.
WBRC worked with each of the office condominium buyers to custom design their office plans and interiors. These ranged from medical offices to a law firm.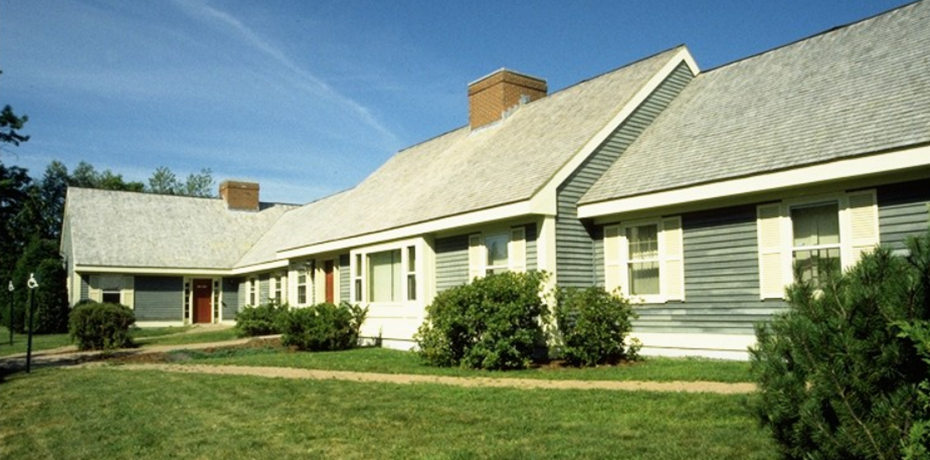 The decisions we made back then seemed to have passed the test of time. A drive through Evergreen Woods is as pleasant and impressive as it ever was, with some early businesses are still serving clients and patients from this tree-filled professional park.
One last vintage photo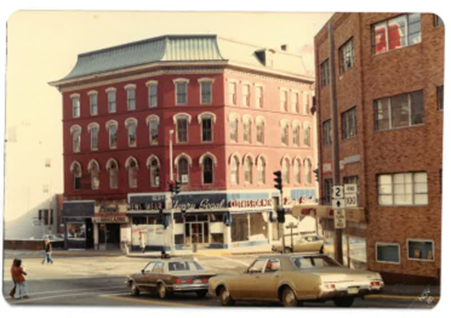 It was also at about this time that improvements were happening to the historic district buildings in downtown Bangor not far from our current offices on Central Street.
The iconic corner property at Main St. and State St. underwent a renovation that dramatically changed its appearance to the way it looks today. The renovations included a new paint color and some storefront window changes. It demonstrates what a difference a change in paint color can make.