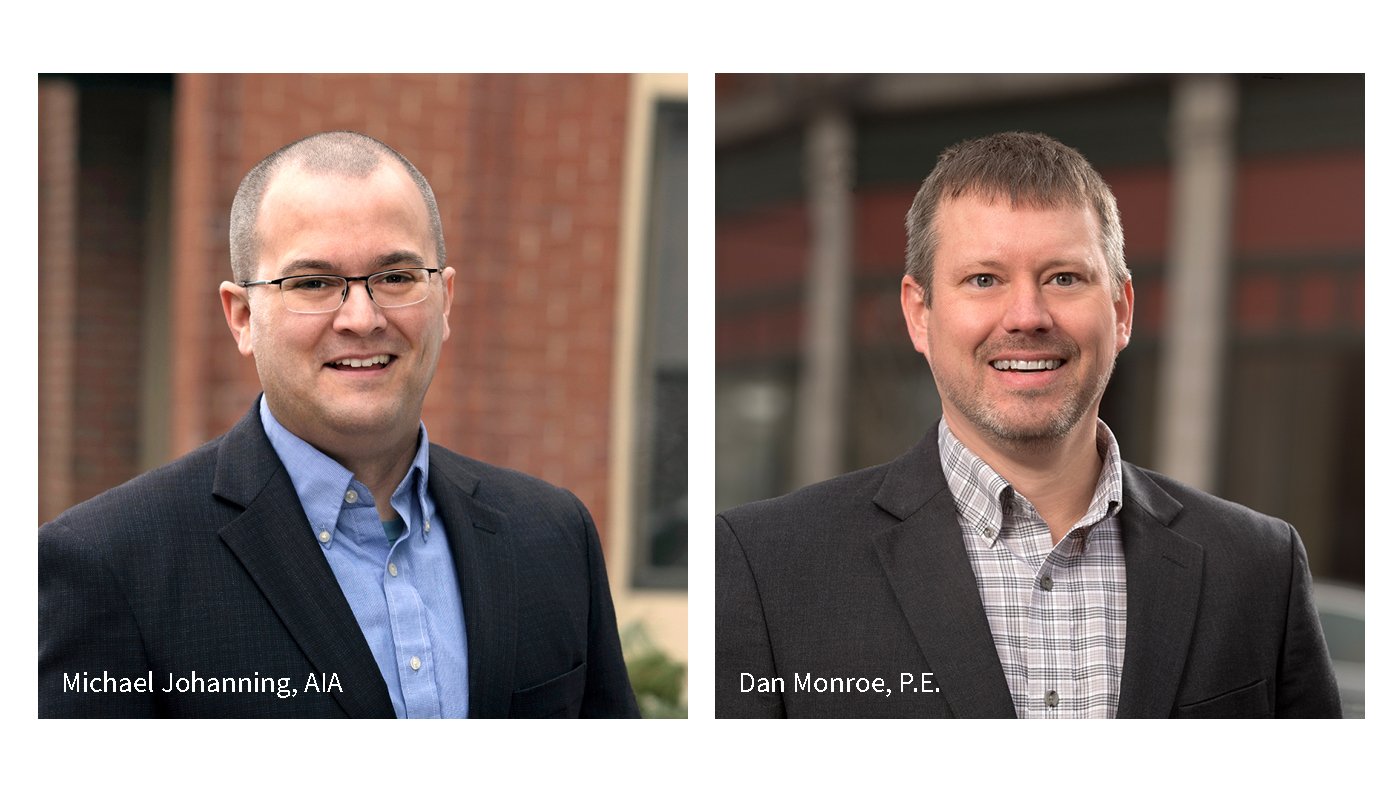 WBRC Architects Engineers is pleased to announce that architect Michael Johanning, AIA, and mechanical engineer Dan Monroe, P.E., have joined the firm's owner/management team as Principals. Both Michael and Dan were unanimously elected to WBRC's Board of Directors.
"The promotion of Michael Johanning and Dan Monroe to WBRC Principal is a significant milestone for both them and the firm," says WBRC CEO Doug Whitney, AIA. "Both are quiet leaders who are exceptional in their disciplines. All of us on the ownership team are gratified by their decision to join us in leading WBRC Architects Engineers into the next decade and beyond."
Michael Johanning is a Senior Architect and Project Manager with nearly 20 years of experience, 17 of them at WBRC. Michael's primary focus at WBRC is education and civic projects. He has been a key part of some of the firm's best-loved K-12 schools, including Ocean Avenue Elementary School in Portland, and served as project architect and project manager for the major renovation and expansion of Portland's Cross Insurance Arena.
Michael Johanning is a graduate of the University of Detroit Mercy, where he earned a Bachelor of Architecture (magna cum laude). He also studied at Warsaw University of Technology in Warsaw, Poland. He is a LEED Accredited Professional, and is certified in Construction Documents Technology (CDT). He is a member of the Maine chapter of AIA, the National Council of Architectural Registration Boards, and the University of Maine at Augusta Bachelor of Architecture Advisory Board.
"Mike has already made an indelible impact at WBRC," says Ray Bolduc, P.E., director of the firm's Education Studio, "and I am personally very pleased to welcome him to the Principal leadership team. He is a gifted, insightful designer who has earned the respect of both colleagues and clients. I look forward to the contribution he and Dan will make to WBRC's principal leadership team and its future."
Dan Monroe is a Senior Mechanical Engineer and manages the firm's Mechanical Engineering Department. He has more than 20 years of experience, 12 of them at WBRC, in plumbing and HVAC systems design for laboratory, healthcare, and institutional facilities. Some of Dan's signature WBRC projects include Bigelow Laboratory for Ocean Sciences, VA Togus Specialty Care Addition, Hampden Academy, Emera Astronomy Center, Cross Insurance Center, and Cross Insurance Arena. He is part of the design team for the forthcoming Engineering Education and Design Center at the University of Maine.
Dan Monroe earned a Bachelor of Science in Mechanical Engineering Technology from the University of Maine. A LEED Accredited Professional, he is a member of the American Society of Heating & Air Conditioning Engineers (ASHRAE) and the Maine Indoor Air Quality Council.
"Dan is one of the most talented mechanical engineers in the state of Maine and has a work ethic to match," says Rob Frank, P.E., WBRC's Chief Business Development Officer. "He has a passion for his work and for excellent client service. All of us in leadership are pleased with the confidence both Dan and Mike have shown in the firm and its future by accepting our invitation to become principals."