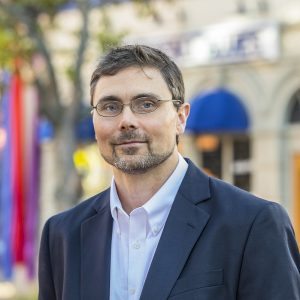 WBRC Architects Engineers, a full-service architecture and engineering firm with offices in Maine and Florida, is pleased to announce that architect Kristian Kowal, AIA, has joined its owner/management team as a Principal. Kris was unanimously asked to join WBRC's Board of Directors in recognition of his design leadership, personal integrity, and exemplary service to clients.
"We are thrilled that Kris Kowal has joined WBRC's ownership team," says CEO Doug Whitney. "He is a gifted architect, an innovative problem solver, and is very highly-regarded by clients and staff alike. All of us on the Board of Directors are looking forward to the unique contribution Kris will make as WBRC's newest Principal." Kris Kowal joins nine other principals, all A/E professionals practicing architecture, engineering, and landscape architecture from WBRC's three offices in Maine and Florida.
As firm principal and voting member of WBRC's board, Kris Kowal will have the authority to sign contracts and proposals on behalf of the firm. As Principal in Charge of a project, he will provide general oversight, assist in maintaining client relationships, lead key project meetings and presentations, support the project team on critical items, and provide consultation and problem resolution.
Over the past decade, Kris has engaged in a diverse range of work at WBRC, serving as design architect for Emera Astronomy Center at the University of Maine; Husson University's Beardsley Meeting House and Gracie Theater; MDI Biological Laboratory in Salisbury Cove; and Bangor Federal Credit Union's new Venture Way branch, among others. He will continue to work primarily out of the firm's Bangor, Maine offices.
Kris Kowal earned a Master of Architecture degree from Syracuse University (magna cum laude), and a Bachelor of Arts from the University of New Hampshire. He is certified in Construction Documents Technology, is a member of NCARB, AIA-Maine, and Maine Municipal Association, and is Second Selectman for the Town of Wellington.