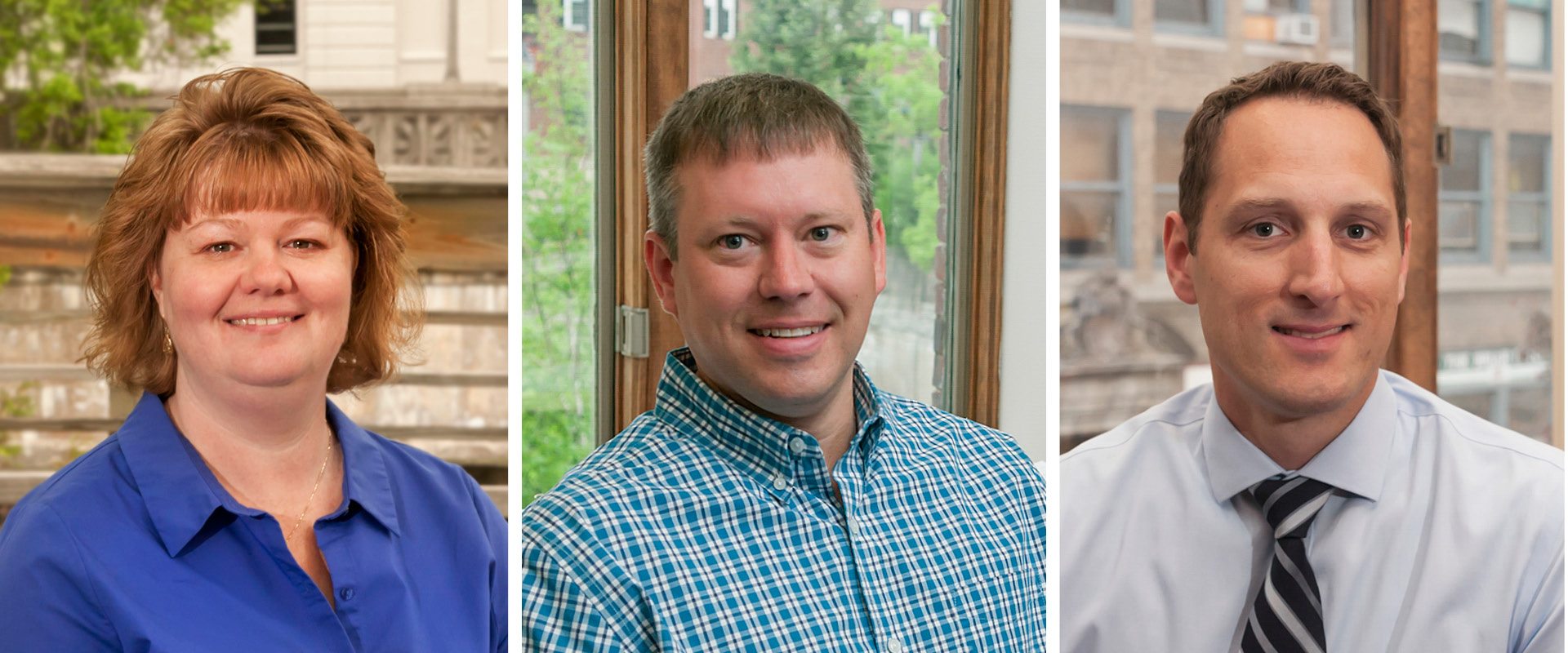 WBRC, a full-service architecture and engineering firm with offices in Maine and Florida, announces the promotion of Stephanie Laplant, Daniel Monroe, and Paul Monyok to Senior Associates and Shareholders. These professionals were chosen unanimously by WBRC's Board of Directors in recognition of their leadership, innovative solutions, and exemplary service to clients.
"These promotions recognize the achievements of proven professionals who are critical to WBRC's current and future success," says firm president Doug Whitney.
Stephanie Laplant, P.E., is a Senior Electrical Engineer with nearly 20 years of experience in electrical systems design, 17 of which have been with WBRC, starting as an Engineer Intern. She is a licensed engineer in seven states across New England, New York and Florida, and serves a varied client base throughout the geographic area.  She specializes in energy-efficient design, system upgrades, and has a passion for environmentally conscious design.
She earned a Bachelor of Science in Electrical Engineering from the University of Maine. Stephanie is a LEED Accredited Professional, a member of the National Fire Protection Association, has served as past Secretary, Vice President, and President of the Portland Section of the Illuminating Engineering Society of North America, and enjoys volunteering as an Awana leader at her church. Recent projects include the Maine National Guard Joint Force Headquarters in Augusta; Castine Main Street improvements; Cross Insurance Arena in Portland; Bigelow Laboratory for Ocean Sciences in East Boothbay; and many Hannaford renovations throughout the region.
Dan Monroe, P.E., is a Senior Mechanical Engineer with more than 20 years of experience in laboratory, healthcare, and institutional facilities process, plumbing, and HVAC systems design. Recent projects include Hampden Academy, MDI Biological Laboratory, Emera Astronomy Center, and EMCC Public Safety Training Center.
Dan is a graduate of Eastern Maine Technical College, earned a Bachelor of Science in Mechanical Engineering Technology from the University of Maine, and is pleased to give back to those institutions in professional practice. He is a LEED Accredited Professional, and is a member of the American Society of Heating, Refrigerating and Air Conditioning Engineers (ASHRAE), Maine Indoor Air Quality Council, and Maine Healthcare Engineers' Society.
Paul Monyok, P.E., is a WBRC Senior Civil Engineer with more than 14 years of experience in highway and site design, storm water modeling and land use permitting. Some of Paul's recent projects at WBRC include Maine National Guard Joint Force Headquarters in Augusta; Sussman House Hospice in Rockport; and The Avenue apartments, Emera Astronomy Center, and UCU Headquarters, all in Orono.
He graduated from Penn State University with a Bachelor of Science degree in Civil Engineering. Paul worked in Maryland, Virginia, and Connecticut before coming to Maine. He became a licensed professional engineer in January of 2009, and later that year achieved his LEED AP certification. Paul has MaineDOT's LPA certification. He is a member of the Maine Society of Professional Engineers and the American Society of Civil Engineers, and is a volunteer swim coach at the Bangor Y.
"We congratulate all of these individuals," says Whitney. "They have exhibited exceptional leadership abilities and are instrumental to our growth strategy and commitment to outstanding client service."
WBRC has achieved numerous awards for its sustainable design and leadership practices. Most recently, it was awarded 2015 SustainABLE for ME awards for sustainable and accessible design solutions for Cross Insurance Arena and Ocean Avenue Elementary School, both located in Portland, Maine.