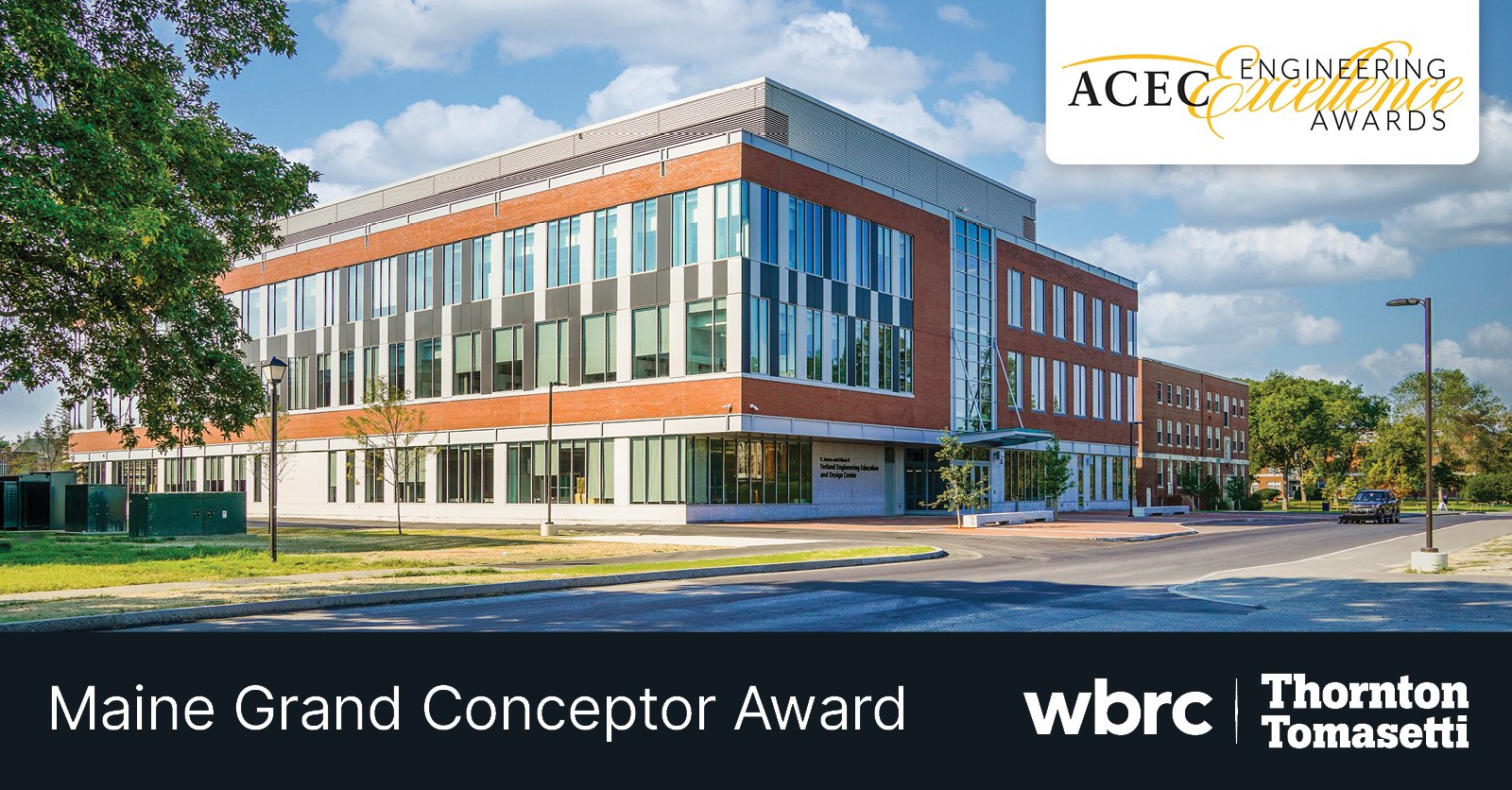 WBRC and Thornton Tomasetti have together received the 2022-2023 Grand Conceptor Engineering Excellence Award from the American Council of Engineering Companies (ACEC) of Maine for Ferland Engineering Education and Design Center (EEDC) at the University of Maine. The award was presented at ACEC of Maine's 2022 Fall Forum on November 10 in Freeport, ME.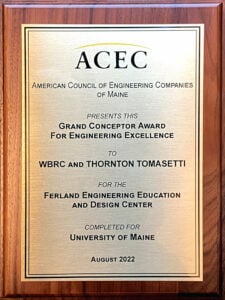 ACEC of Maine's Engineering Excellence Award recognizes projects which exemplify quality, innovation, value, and client satisfaction. The National ACEC is a federation of 52 state and regional councils representing more than 600,000 engineers, architects, land surveyors, and other specialists. Their primary mission is to strengthen the business environment for their members through government advocacy, political action, and business education. The Grand Conceptor is ACEC-Maine's top annual award.
WBRC and Thornton Tomasetti's winning entry was in the Building/Systems Category for their work on the new Ferland Engineering Education and Design Center, located in the heart of UMaine's engineering district. WBRC provided Civil, Mechanical, Electrical, and Plumbing Engineering for the project. Thornton Tomasetti provided Structural Engineering and Sustainable Design and LEED Consulting. Other key members of the design team include WBRC, Architect of Record and Ellenzweig, Design Architect and Lab Planner. Construction was completed by Consigli Construction Company and over 70 subcontractors, many of them local or regional.
The 107,000 SF, $78M Ferland EEDC is designed to advance engineering education, innovation, and research at Maine's flagship university. It is a strategic, technology-rich configuration of laboratories, hands-on learning classrooms, collaborative areas, and public spaces. While several departments utilize the facility, it specifically supports UMaine's Mechanical Engineering and Biomedical Engineering programs. Ferland EEDC also serves as a Welcome Center for visiting school children, prospective students, and guests of the University.
The central design theme is "engineering on display." In addition to generous glazing, inside and out, Ferland EEDC makes use of exposed structural elements throughout, providing both a teaching tool and expanded sightlines.
The building supports a vast array of uses and equipment, from machine tools to fume hoods. These require specialized engineering design from multiple disciplines.
For example, Ferland EEDC's laboratories require 100% outside air and frequent air exchanges. To help lower ongoing costs, the design includes a robust heat recovery system, recovering up to 81% of the energy from exhausted air. Other innovations include overhead power and infrastructure grids that make it easy to reconfigure lab furniture. To create a more orderly systems pathway, the team created prefabricated mechanical chases which channel the building's infrastructure through the main air ducts. Ferland EEDC also incorporates exposed structural elements throughout, providing a teaching tool and expanded sightlines.
Designed to a LEED Silver minimum target, the building and site include many sustainable features, including a continuous skylight with fritted glazing; outdoor lighting that mitigates light pollution; low-flow water fixtures inside and out; and utilizing only existing campus parking, greatly reducing the need for new non-pervious pavement.
The engineering design work by WBRC and Thornton Tomasetti involved dozens of professionals and had added significance due to the building's UMaine location and its educational mission.
"The WBRC team is thrilled to be chosen along with Thornton Tomasetti to receive one of ACEC of Maine's top awards," said Ray Bolduc, PE, Senior Principal and Principal-in-Charge of the project. "Like many of us on the team, I am a graduate of UMaine's College of Engineering, so this project was extra special. It's been a pleasure to help the University of Maine turn their longtime vision into a reality."
"Engineering is the heart of what we do at Thornton Tomasetti," said Ethan Rhile, PE, Vice President at Thornton Tomasetti. "It was an honor to bring our experience in Structural Engineering and Sustainable Design/LEED to a project that will educate the next generation of engineers."
---
About WBRC
At WBRC Inc., we help clients design and optimize their facilities and campuses. But our ultimate goal is Design that Improves LivesTM. Headquartered in Maine, WBRC employs 60 people in multiple states. The firm's full-service professional team includes licensed architects, engineers, interior designers, and landscape architects. Now in our 120th year, we remain committed to providing outstanding solutions to clients in the healthcare, education, civic, and commercial sectors.
About Thornton Tomasetti
Thornton Tomasetti applies engineering and scientific principles to solve the world's challenges – starting with yours. An independent organization of creative thinkers and innovative doers collaborating from offices worldwide, our mission is to bring our clients' ideas to life and, in the process, lay the groundwork for a better, more resilient future.