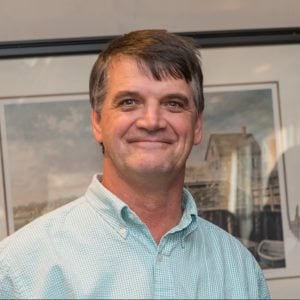 Richard L. Rollins, PE, a longtime principal owner at WBRC Architects Engineers, retired from the firm at the end of 2017 after 39 years of distinguished service.  For nearly 20 of those years, he led the MEP Engineering Department.
A talented mechanical engineer, Dick focused on designs and studies related to mechanical, electrical, and plumbing systems. His role at WBRC included management of numerous civic, educational, R&D, and healthcare projects. He served many clients over the years, including extensive work for The Jackson Laboratory, Bigelow Laboratory for Ocean Sciences, and Hannaford Supermarkets.
"To say Dick Rollins will be missed is certainly an understatement," says Doug Whitney, WBRC's President/CEO. "Dick combines vast knowledge, experience, and problem solving skills with a down-to-earth demeanor that have made him a pleasure to work with. No one on our team is more respected and appreciated by clients and colleagues than Dick."
Dick Rollins started out his career at WBRC Architects Engineers after graduating from Central Maine Vocational Technical Institute (now Central Maine Community College), where he majored in Architectural Engineering Technology. "It was supposed to be a summer job," Dick recalls. "It's been a long summer!" In the history of WBRC principals, only company founder and architect C. Parker Crowell and architect Walter Lancaster served the firm longer.
A LEED Accredited Professional, he has been an active member of many professional associations, including the National Fire Protection Association, the American Society of Heating, Refrigerating & Air Conditioning Engineers (ASHRAE), American Society of Healthcare Engineering, Illuminating Engineering Society of North America, National Society of Professional Engineers, and Maine Indoor Air Quality Council.
Over the past two years, Dick had been transitioning his MEP leadership responsibilities to other trusted members of the team.
Dan Monroe, P.E., Senior Associate, now leads WBRC's Mechanical Engineering Department. You can reach him at dan.monroe@wbrcae.com or (207) 947-4511 x279.
Stephanie Laplant, P.E., Senior Associate, leads the Electrical Engineering Department. She may be reached at stephanie.laplant@wbrcae.com or (207) 947-4511 x260.