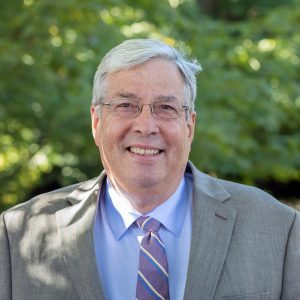 William P. Pogar, AIA, a principal owner at WBRC Inc., has retired from the firm after 9 years of service. An experienced Architect, Will focused on healthcare throughout most of his career, including his time at WBRC. He also served as WBRC's Portland Region Manager, helping to grow WBRC's presence in Maine's largest city and beyond.
During his tenure at WBRC, Will focused on expanding the firm's Portland-based workforce through strategic recruitment. Since his arrival in 2014, the Portland team has more than tripled in size and includes all A/E disciplines. Will also worked to grow WBRC's body of work for VA Healthcare, now spanning across 10 states.
Will Pogar brought more than 30 years of professional experience to WBRC when he joined as a principal. Prior to joining WBRC, Will co-led the healthcare studio at another Maine A/E firm and was previously an in-house architect for a large medical center. His work history also includes owning his own design-build firm and serving as a middle school teacher. A native of upstate New Hampshire, Will earned a Bachelor of Arts from the University of Vermont and a Bachelor of Architecture from the University of Idaho.
"From the day Will joined us, he was passionate about growing WBRC's healthcare studio and our presence in Portland," says WBRC CEO Doug Whitney. "His contributions include serving as co-chair of Compass Healthcare Facilities Symposium and helping forge relationships with SDVOSB (Service-Disabled Veteran-Owned Small Business) design partners. Our company would not be where it is today without Will. We are grateful for his work and wish him a long, happy, healthy retirement."