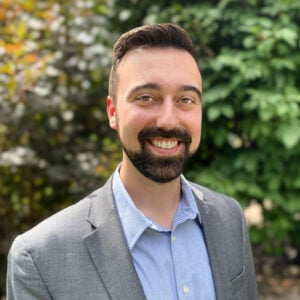 WBRC is pleased to welcome Architect Brandan Smith, AIA to the firm. Brandan worked with WBRC as a Project Designer before his move to Missouri in 2016. He has returned to WBRC as a fully licensed architect and the team is glad to have him back.
Brandan will be drawing from his previous healthcare design experience as he works with WBRC's Healthcare Studio in Portland. As part of the design team, he will work to move projects forward from the schematic design phase to the construction phase. Brandan will collaborate with consultants, engineers, and contractors to ensure that local regulations and codes are met, and the client's vision is realized.
"It's great to have Brandan back." says Richard Borrelli, AIA, WBRC Principal and Healthcare Studio Director, "His architectural expertise, experience in healthcare facilities, and connection to the Midwest make him invaluable to the WBRC team and a welcome addition to our Healthcare Studio."
Brandan Smith earned a Master of Architecture from Kansas State University College of Architecture, Planning and Design in Manhattan, Kansas. He previously held an Architect role with ACI Boland Architects and was an Architect/Project Manager with BRR Architecture before that.
Brandan will be working virtually from his office in Kansas City, Missouri.