WBRC is pleased to welcome Senior Electrical Engineer Philip Badger, III, P.E. as our firm's new Electrical Engineering Department Manager.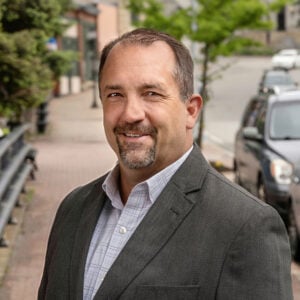 Phil Badger brings nearly 30 years of electrical systems design and project management experience to WBRC. He has a proven track record of success in systems design and improvement, project management, permitting, code compliance, construction administration, in-house training programs, standards development, and team management. A graduate of the University of Maine, his resume includes electrical engineering design and management experience at Haley Ward, DiGiorgio Associates, TLC Engineering for Architecture, and early career experience at WBRC as an Electrical Engineering intern. He is licensed in multiple states and has received special training in fire safety, telecommunications, and National Electrical Codes.
"We are thrilled that Phil has returned to WBRC to lead our Electrical Engineering team," says Stephanie Laplant, Principal Electrical Engineer. "He is knowledgeable, organized, self-motivated, and very personable. He is effective at managing both people and projects, something that is crucial to this position."
Phil is also a Maine licensed Master Electrician, which gives him special insights into the constructability and user-friendliness of a given design.
"His ability to install, maintain, and repair electrical systems is a real advantage," Stephanie says. "We're all going to benefit from this unique knowledge set."
Rob Frank, WBRC's Chief Business Development Officer, appreciates the business acumen he brings to the table.
"Phil has deep roots in Central Maine's building industry," Rob says. "He grew up as part of a respected family business and brings strong people skills and relationships. Phil also worked for several years in Florida, which is a nice bonus, since we have a busy office in Lakewood Ranch."
Stephanie Laplant has served as the firm's Electrical Engineering Department Manager since 2017. Ray Bolduc, WBRC CEO, wants to assure clients that Stephanie is not going anywhere.
"Stephanie will keep working on projects and serving clients," he says. "She is turning over the department management to Phil so she can move into a broader leadership role within the firm. We'll be announcing her promotion in the coming months."
"It took us a while to find the right person to fill her shoes," Ray says. "It's gratifying that it is someone who interned here early in his career and, like many of us, is also a UMaine engineering graduate. We're very happy to welcome Phil Badger to the team."