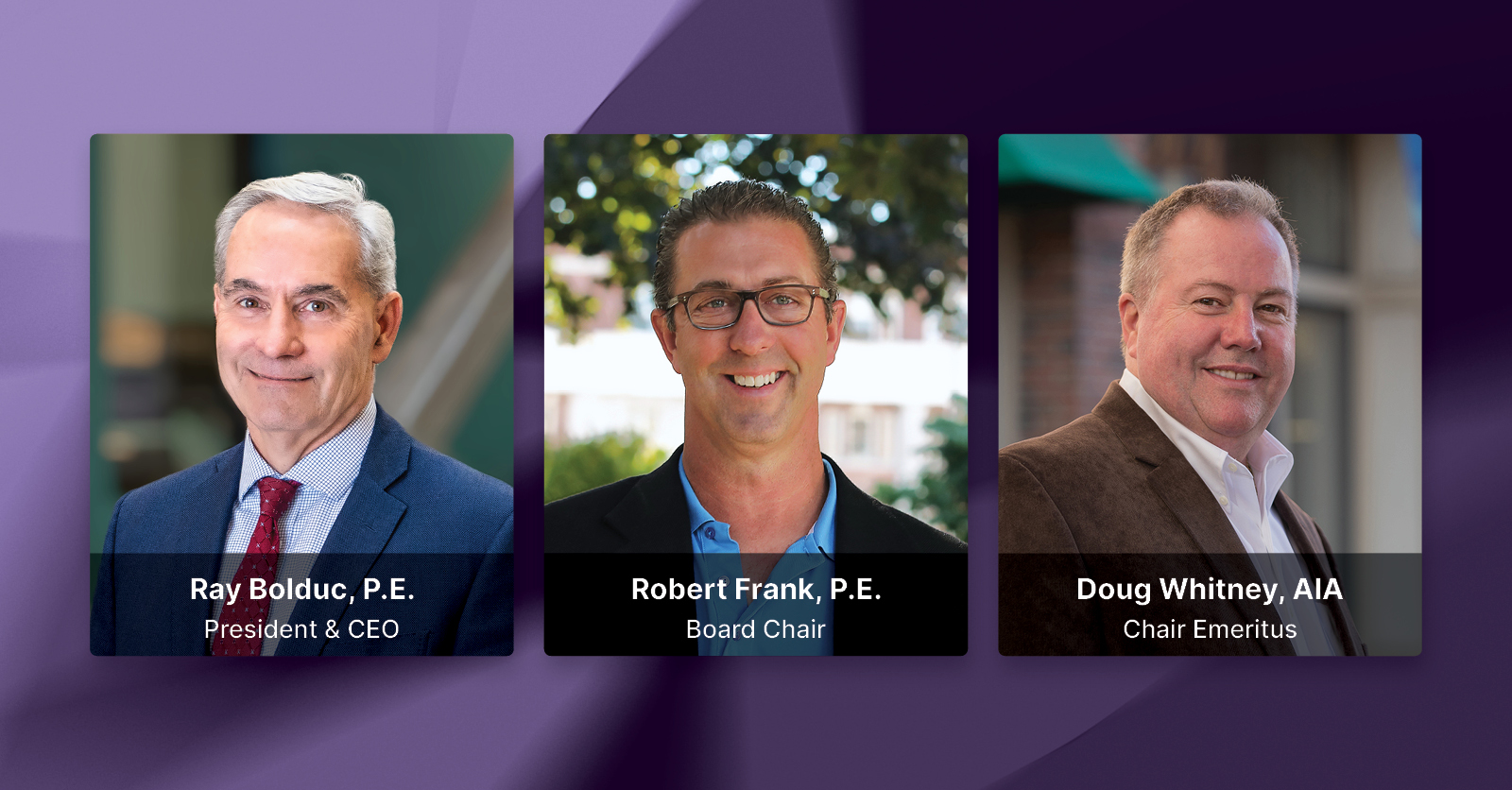 Ray Bolduc, P.E., is named President & CEO; Robert Frank, P.E., is named Board Chair; Retiring CEO Doug Whitney, AIA, will serve as Chair Emeritus.
At its most recent November meeting, the Shareholders and Board of Directors of WBRC elected Senior Principal Ray Bolduc, P.E., to serve as the firm's President & CEO. Rob Frank, P.E., Senior Principal and Chief Business Development Officer, has been elected Board Chair. Senior Principal Doug Whitney, AIA, who will be retiring as President & CEO after leading the firm for nearly a decade, has been elected Chair Emeritus. These new roles will take effect on January 1, 2023.
As WBRC's newly appointed top executive, Ray Bolduc is responsible for communicating and implementing the company's vision, mission, and overall direction. He will oversee WBRC's Executive Team as they manage more than 55 staff across five office locations.
Ray is no stranger to leadership roles at WBRC. He joined the firm in March 2000 and he led the firm's Civil Engineering Department before his most recent leadership role as Director of WBRC's Education Studio. As Ed Studio Director, Ray has served as Principal-in-Charge of some of the firm's most high-profile projects. This includes the recently completed Ferland Engineering Education and Design Center at the University of Maine, UMaine Athletics Master Plan, and South Portland Middle School. Over his career, Ray has led projects for all four WBRC studios, with recent work for the VA, Northern Light Health, L.L.Bean, and over 200 projects for the United States Postal Service.
"Ray is a trusted leader here at WBRC," Rob Frank says. "He is highly respected and well-liked by our staff, clients, and partners. In a time when our industry and the very nature of project delivery is in flux, Ray is the kind of steady hand we need to guide our team."
In addition to his role at WBRC, Ray Bolduc has served on several regional and state boards, including ACEC-Maine, Eastern Maine Community College Advisory Board, and Downtown Bangor Arts Collaborative. Ray's professional memberships include the Maine Society of Civil Engineers, American Council of Engineering Companies (ACEC)-Maine Chapter, American Society of Civil Engineers, and the Society for College and University Planning. He is a graduate of the University of Maine College of Engineering.
To help with the transition, Doug Whitney will serve as Chair Emeritus, dividing his time between Florida and Maine.
"Ray is well-known in the state of Maine and we share many of the same connections," Doug Whitney says. "I look forward to introducing him to our many great clients and partners in the state of Florida."
With nearly 35 years at WBRC, Rob Frank brings immense institutional knowledge to his role as Board Chair. Major projects he's led over the years include Maine National Guard Joint Force Headquarters, Cross Insurance Arena, Aura, and Hollywood Hotel and Casino, among many others. In recent years Rob has served as WBRC's Chief Business Development Officer, helping bring in some of the firm's most important projects and partnerships. It is a role he will continue.
Rob Frank brings a long track record of community leadership to his new position as Board Chair. Rob's current board service includes Immediate Past Chair of the University of Maine Alumni Association, Member and Budget Committee Chair of the RSU 22 School Board, and Member of the Maine State Chamber of Commerce Board of Directors. A graduate of the University of Maine College of Engineering, he also currently serves on the UMaine Civil Engineering Advisory Board. Previous board service includes past Chair of the Bangor YMCA and past Board Member of the University of Maine Board of Visitors and the Bangor Region Chamber of Commerce Board of Directors.
"Rob's leadership in the community means he understands many issues from multiple angles," Ray Bolduc says. "He has served on some of Maine's most important boards during some challenging times and transitions. We are counting on him to leverage what he has learned to help fine-tune our governance and procedures."
As WBRC's Board Chair, Rob will preside over quarterly meetings and will work with fellow Board Members to recruit and mentor the next generation of leadership.
"We have, and continue to attract, amazing employees, many of whom have become Board members and firm leaders," he says.
Chair Emeritus Doug Whitney, an architect, joined WBRC in 1980. He calls the last decade of service as its chief executive officer "an honor of a lifetime."
"All of us on the ownership team are extremely grateful for Doug's leadership over his long career," says WBRC CFOO Paul Brody, "especially for his last nine years leading the firm."
During Doug Whitney's tenure as chief executive, WBRC expanded its geographic reach and secured some of the largest projects in the firm's history.
"Doug is the reason we expanded to Florida and he helped us stay focused during the uncertainty of the COVID pandemic," Paul Brody says. "Doug was also the driving force behind our recent rebranding efforts — not to mention a gifted architect and a master at hand-drawn plans and elevations."
"Doug Whitney's talent and hard work have helped make us the company we are today," Rob Frank says. "We are all grateful for the opportunity to build on his success."
Founded in 1902, WBRC has a rich legacy of service, in part, because the company has continued to adapt and grow.
"Our team has tackled a huge variety of projects in recent years," Ray Bolduc says. "COVID forced us to step up our game with virtual collaboration. Our entire industry has been rocked by escalating costs and supply chain disruptions. Even with these challenges, we've continued to earn a reputation for listening to our clients and delivering on our promises."

"As our 120th anniversary comes to a close, it's been great to celebrate how far we have come," Ray says. "Now it's time to focus on where we are going. I look forward to collaborating with WBRC's leadership team to advance our vision while we continue to serve our clients and empower our team."