WBRC Architect Tyler Johnson AIA, NCARB, has been named a Principal Shareholder of the Corporation.
"Tyler was elected principal by unanimous vote of WBRC's ownership team," says Rob Frank, WBRC Board Chair. "We are excited and honored to have him join the board of directors and represent our company as a principal."
WBRC President & CEO Ray Bolduc says Tyler's promotion makes him even more confident in WBRC's future.
"Tyler is a versatile, knowledgeable architect and project manager," he says. "He is liked and respected by everyone who works with him. He has already brought new energy and insights to our leadership team. We all look forward to Tyler's continued contribution in the years ahead."
Michael Johanning, WBRC Education Studio Director and Principal Architect, has worked closely with Tyler on many projects.
"Tyler is very committed and detail-oriented," he says. "He is a good sounding board for ideas and can help filter through an issue quickly. Younger staff enjoy working with him because he is very approachable. He strikes the balance between giving needed guidance and knowing when to let people take the ball and run with it."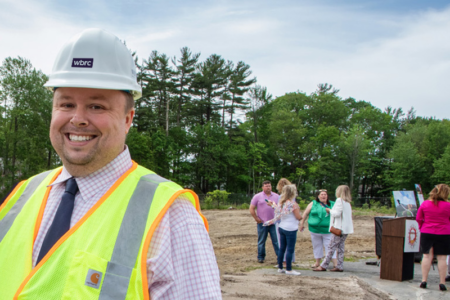 A Maine Licensed Architect, Tyler Johnson is also licensed in Vermont, New Hampshire, and Massachusetts. He has over 15 years of design and project management experience, primarily in the commercial and education sectors. Currently, he is the Project Architect/Manager for one of the largest, most high-profile projects at WBRC, the multi-phase renovation of the L.L.Bean Flagship Store in Freeport, Maine.
Tyler began his career as an Architectural Design Intern at WBRC. A Portland, Maine native, Tyler earned a Bachelor of Architecture Engineering Technology (BAET) degree from Wentworth Institute of Technology. He is a LEED Accredited Professional and is NCARB certified. Tyler serves on the Board of Directors of AIA Maine and is a member of the Portland Society for Architecture.
He is also a Board Member and Mentor for ACE Mentor Program of Maine. ACE is part of a national program consisting of architects, engineers, and contractors who volunteer to mentor high school students interested in learning more about careers in the A/E/C industry.
Tyler focuses on commercial and education projects at WBRC. Recent work in Maine includes the L.L.Bean Flagship Store and Campus, South Portland Middle School, Oceanside High School, Belfast Area High School, as well as work across the country for private retail clients.
---