WBRC names Stephanie Laplant, P.E., as Chief Operating Officer (COO) and Paul Brody, PLA, as Chief Financial and Information Technology Officer (CFIO).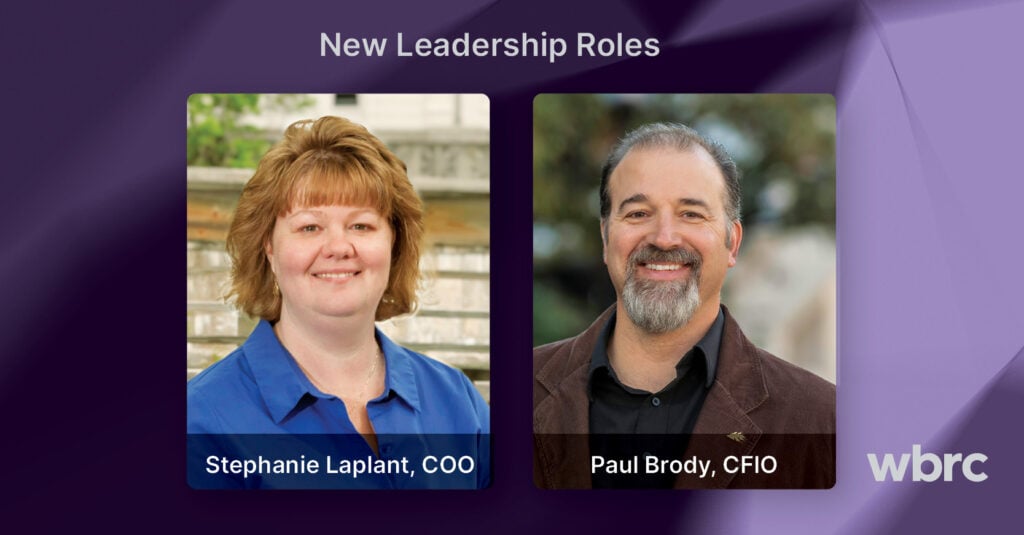 WBRC, a leading architecture, engineering, and consulting firm headquartered in Maine, is pleased to announce the appointment of Stephanie Laplant, P.E., as Chief Operating Officer (COO) and Paul Brody, PLA, as Chief Financial and Information Technology Officer (CFIO).
Stephanie Laplant Named WBRC Chief Operating Officer 
By unanimous decision, WBRC's Board of Directors has named Principal Stephanie J. Laplant, P.E., as its new Chief Operating Officer (COO). The longtime manager of WBRC's Electrical Engineering Department, Stephanie has been transitioning to this new leadership role for several months.
"Steph has done an amazing job assuming the COO's responsibilities over the past year," says CEO Ray Bolduc. "We've all watched her take on new projects and duties while continuing to serve clients, and it's been impressive. Steph had already proven her abilities as a manager of people and projects. But doing this for our entire company is another order of magnitude. We are very fortunate to have someone with her knowledge and dedication take over this important leadership role."
As Chief Operating Officer, Stephanie Laplant is now part of WBRC's Executive Committee, or ExCom, which represents the firm's ownership in the ongoing management of the company. ExCom includes WBRC's Chief Executive Officer (CEO), Chief Financial and Information Technology Officer (CFIO), Chief Operating Officer (COO), and Chief Business Development Officer (CBDO). ExCom meets monthly and also gets together virtually for time-sensitive decisions.
"A COO's focus is to plan the movement of projects through the firm and to leverage our personnel resources," Paul Brody says. "Steph has a great understanding of everything that needs to be in place for a successful project. She's an effective manager and mentor focused on bringing out the best in people."
Paul Brody previously served the dual role of CFO and COO (CFOO). His new title is CIO/CFO, to reflect his focus on the firm's technology and finances.
"These new roles are part of a year-long leadership transition that has been a resounding success," says Rob Frank, WBRC's CBDO and Board Chair.
The year 2023 also included the appointment of a new CEO, Board Chair, and Chair Emeritus, as well as new leadership for WBRC's Education Studio, Healthcare Studio, and Portland Region. All of these new roles were promotions from within the company. Stephanie Laplant's previous leadership role as Electrical Engineering Department Manager is now held by Philip E. Badger III.
"Back when Steph joined WBRC 24 years ago, she was the company's first female engineer," Rob Frank recalls. "While she quickly earned everyone's respect, she still had to overcome barriers her male counterparts did not face. Today, thankfully, women are in leadership roles at every level at WBRC. But we need to acknowledge her role in helping blaze a trail for women A/E professionals in Maine."
Like many of WBRC's Professional Engineers, Stephanie Laplant is a graduate of the University of Maine's College of Engineering. In addition to her primary role as WBRC's COO, she will continue to serve as the Client Champion and Project Manager for Hannaford Supermarkets and provide Electrical Engineering oversight on selected projects.
CFOO Paul Brody is now Chief Financial and Information Technology Officer 
After serving WBRC as Chief Operating Officer for the past 14 years, Paul Brody, PLA, is stepping down from the COO role to concentrate on his responsibilities as CFO and his new official role as Chief Information Technology Officer. As of mid-October, WBRC Principal Stephanie Laplant, P.E., is now serving as the company's COO.
"Paul has done remarkable work at WBRC throughout his 22-year career," CEO Ray Bolduc says. A talented Landscape Architect, Paul Brody joined WBRC in 2001. "Before long," Ray says, "Paul was managing our entire Land Use Department." Paul was promoted to firm Principal in 2007 and became COO in 2010, succeeding now-retired CEO Steve Rich.
During Paul's tenure as COO, the firm achieved a 30% increase in revenue and grew to a staff of 60. When longtime WBRC CFO Alan Bromley passed away in 2018, Paul took over Al's duties in addition to his own.
"Paul stepped up to the plate during a traumatic time," Ray Bolduc says. "He and Al had worked hand in hand, so he was able to keep things running smoothly. I think Al would have been very proud." Rob Frank, WBRC CBDO and Board Chair, agrees. "On the technology side, Paul has helped bring WBRC through many changes and challenges," he says.
Rob notes how, during the early days of the pandemic, Paul and WBRC IT Manager Steve Patten moved WBRC to a remote workplace with "lightning speed."
As CFIO, Paul will continue to oversee the company's financial management and technology systems, with Stephanie Laplant overseeing the COO roles of project success and HR.
Paul Brody says he will miss some aspects of operations, "especially working directly with Project Managers." But he knows the COO role is in very capable hands.
"Steph has great professional instincts," he says. "She has a deep knowledge of the industry and a real heart for people and team building. This is the right move at the right time for me, for Steph, and for WBRC."
About WBRC Inc.
WBRC was founded in 1902 in Bangor, Maine, and now employs over 60 people in multiple states. Our team includes licensed architects, engineers (civil, structural, mechanical, and electrical), interior designers, and landscape architects, supported by a talented team of design and technical support staff. We serve clients in the healthcare, education, civic/government, and commercial sectors.
While our work involves buildings and landscapes, our ultimate goal is to improve lives through design. Learn more about WBRC people and projects at wbrcinc.com.